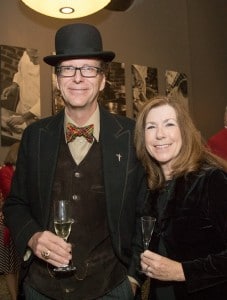 "It was definitely fun when Pat Conroy came into your bookstore."
Longtime Beaufort, South Carolina, residents, David and Lorrie Anderson didn't start their work lives in the bookselling business, but that's exactly where they ended up after David's habit of collecting books "got out of hand."
The couple first opened NeverMore Books, a local bookstore specializing in unique, hard-to-find books and signed first editions, in September of 2015 on Carteret Street. But a little over a year later, the couple was forced to move their fledgling store from its basement location under the law offices of Tupper, Grimsley and Dean after Hurricane Matthew swept through the Lowcountry causing flooding issues everywhere.
Now the shop has found a new home at 702 Craven Street, Beaufort, and as locals like to say, "the Raven is now on Craven."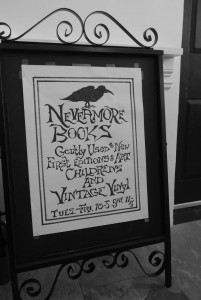 This interview was conducted prior to Hurricane Irma. We are pleased to report that NeverMore Books survived the storm intact and is once again open for business.
Mindy Lucas: Welcome to Porch Talk, which we're having here at NeverMore Books today, just three-and-a-half blocks from the Pat Conroy Literary Center.
Lorrie Anderson: Thank you. We're happy to talk.
ML: So how has business been this summer?
David Anderson: Well, brick and mortar places are having a little renaissance, so that's a good thing. We were very luck to have gotten this location and very happy that accommodations came about when they did. The summer has been really good and bright and everybody seems very enthusiastic.
ML: What made you decide to open a bookstore?
DA: We had way, way, way too many books.
LA: (Laughing) Dave has always been an avid book collector, and things just kind of got out of hand.
DA: Yeah, they did.  But we had always talked about having a store anyway, and we'd always thought about doing it in Beaufort. But there was no place where we had an opportunity to do that. Then that section of the law office building came open, and so we were able to utilize that. They were very gracious and our fledgling attempt was pretty successful. So it went really well for the first year.
ML: Since you had that many books, it probably goes without saying that you are both big readers. Do you read the same things, or are you like my husband and I where, we tend to read different things but with some overlap.
LA: We do read different things, but we also read a lot of the same books.
DA: If we like a book, we'll pass it to each other.
LA: We read all the time. I have always liked books and spent a lot of my childhood in libraries, which was my favorite place to go, but never really, until I met Dave and started learning about the whole collecting process, did I care if it was a first edition or just what. I just wanted to read the book.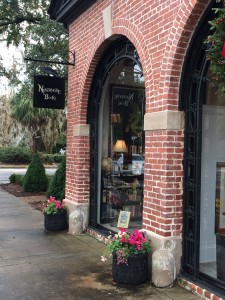 ML: How does that work when you have customers come in? Do you find that they look to you, Lorrie, for some things to read and you, Dave, for other things?
LA: Normally I'm here. But Dave, I would say, knows many of the books that I don't know. There are a lot of books in here that definitely are what he loves and collects and that I maybe haven't read. But I can steer people in that direction and I may tell them if I know he really likes something.
DA: You can't pick out anybody's taste for them. You can only suggest things. You can only be as specific as they are. There are a lot of things I can go around and point out, and so could Lorrie. But maybe not a single one of them will be what they're actually wanting.
DA: Or, we get a lot of return customers that come back after we've suggested something.
LA: And books that we love we will definitely recommend.
DA: We have a little section that is our favorites.
LA: Some people take your advice and some people don't. And that's fine because everybody has their own taste in reading. It's funny but people who come in here with a specific book in mind, we may not have because we are a used bookstore, and while we carry a few new things we're not a new bookstore. So we don't have every latest thing.
DA: We don't really ascribe ourselves to that either, because bestseller lists aren't what we're going to try to portray, and we don't want to be a distributor bookshop—that everything that comes out automatically ends up here. It has to have a little time test to it to make it worthwhile.
We also don't sell normal top 10 bestseller type things. I mean, we do occasionally. It depends on the writer. Kind of a rule of thumb is if the author has a big flashy picture of himself on the back cover, and their name is bigger on the front cover than the title of the book. We don't usually do those.
ML: (Laughing) Tell me about your background then. Did either of you have a bookselling background or work in bookstores previously?
DA: No. The way I got started into it was my father had a furniture store, and the furniture store bought estate sales to display books in their cabinets. So all the cabinetry got filled up and then they would put all these excess books in the warehouse, and I would go through all the books in the warehouse and steal them from the store, which made my father endlessly crazy. That's how I got to know what I was looking at because there were a lot of older things, very antiquarian. In the years since, that's helped me a lot. And then it just got out of hand.
ML: (laughing) An obsession that became a livelihood. What about you Lorrie? Prior to working in advertising for the Beaufort Gazette and then opening NeverMore, were you ever in the book business?
LA: No, never. But I could never think of anything I'd rather do than be around books all day. Reading them or selling them, but reading them is great. It's harder to do when you're in the store working I've discovered.
DA: We had a learning curve. We're still in it.
ML: That's funny. I think I told you that for one of our previous Porch Talks, I talked to Will Balk quite a bit about the book selling business here in Beaufort and how that may have changed over the years.
DA/LA: We love Will!
LA: Always in Beaufort there was Bay Street Trading Co., and we loved that bookstore. It was a tiny little independent bookstore, but you could always find something that was fabulous to read. And that was a lot because of Will and the rest, Chris and Steve and Anne – Anne Roberts – and so when that store closed it was like there was something really missing. And Firehouse Books as well.
DA: And Wilson McIntosh. We like McIntosh too.
LA: We like all bookstores. You really can't find a bookstore that we don't like. So after we decided to open a store and stepped off that cliff and made the decision…
DA: Like Wiley Coyote.
LA: …We decided well let's just make it the bookstore we want to go to. Fortunately, a lot of people come in and they really like it. So we did something (hopefully) right.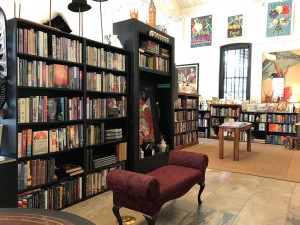 ML: So what have you been your observations on changes here in Beaufort or in bookstores?
DA: Any town worth its salt should have at least two bookstores.
ML: Independent or…?
DA: Doesn't matter. Should have two bookstores no matter what.
LA: Independent would be great. For a long time it felt like the independent bookstores were just going away. And a lot of them did go away.
DA: There are finally two in Charleston now, Blue Bicycle Books and Buxton Books.
LA: But they're starting to come back because one of the things that's happening is there is a trend for people who want to read real books instead of digital. All the e-readers, their sales are going down and sales of real books are going up.
And we get a lot of kids and teens and you would think they would read everything digitally, and they come in here with their own money to buy books. And that makes you feel really good that that's happening.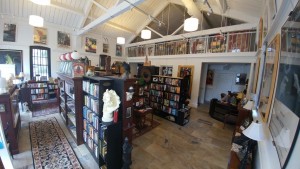 DA: We had a little girl who used to come in to our old store. One day she'd just been to dance class and had her Tutu on and her parents said, "she has something she'd like to say to you." So she does this little curtsey and then recites the whole first half of The Raven by heart. She couldn't have been more than 7. Then she curtsied again, and that was the end of it. We treat her like Eloise.
But we have a lot of kids from Holy Trinity and from the local neighborhoods that are our regulars, and when they come in they are just so zipped up about being here. They take their parents around by the hand and drag them around the whole story.
ML: That's great. So here's one of my big picture questions. Do you think people are still reading then?
DA: The things we're reading are definitely changing.
LA: But you know we just get all kinds. Some people come in and they did not come in to buy a book. They just came in to look and see the space. And immediately you can kind of get a certain vibe that they're not here to look at the books. But the people who come in and say hello and then they disappear, and you don't know what they're doing and then they come up and they have a whole armful of books because they are actually looking at the books.
DA: People's tastes have changed a lot over the years too. Styles of writers and eras of writers are completely different but the classics still sell. Classics will always sell because every time a book gets rediscovered it sells.
Really esoteric writers that are difficult reads—guys like Don DeLillo and Cormac McCarthy, Tom Wolfe and a few of the other fellas that are difficult reads—it takes a person who is already pretty well read to actually walk out of the store with one of those. But that's who we kind of cater to because that was the demeanor of book that we bought to start out with.
LA: And those people are still out there.
ML: I asked Will this question too, but now that the Pat Conroy Literary Center has come into being and Beaufort is already in this region of the country known for its literature and writers, do you think Beaufort is becoming a literary destination?
LA: I think it's in the very early stages of that.
DA: Pat helped that a lot.
LA: Yes, with the Literary Center, I think it will become more so and with the festival in October.
DA: There is definitely a canon of writers that we support and want to back and they are excellent writers and they are going to be the next big thing down the pike. Southern writers as a whole are getting a lot more respect than they used to and we tout not just the ones from South Carolina, but all over the South and that was something that was a kind of genre that we had already leaned toward ourselves. We want to promote that as much as possible.
LA: And the Conroy Center is doing a lot to advocate for that, and we want them to be successful. And they do so much already with the writers they are bringing to Beaufort and other things like the workshops. We've been really lucky to work with the Center on author signings.
ML: It's a natural partnership it seems like.
LA: It's been a great partnership.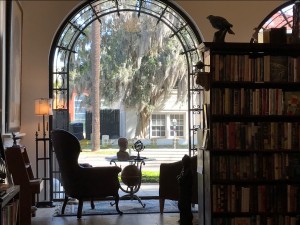 ML: So speaking of Pat, what is your Conroy story?
LA: I'll tell you mine. The first time I ever met Pat in the bookstore, we were in the other location and to get there you had to go down steps and then you're in this room and it's dark and the ceilings are low. And so John Warley (author of A Southern Girl) came in, and I didn't know who John Warley was, and I can't remember if he introduced himself or not. And he said, "I have a few friends who are going to come down in a minute." So I thought, "That's great. Um, Happy to have you."
So then Bernie Schein (author of Famous All Over Town), who I also didn't know very well and Jonathan Hannah, who is the husband of Maggie, Bernie's daughter, and Pat walk in and they are the ones who are meeting John down there.
And so Pat walks in and my heart goes up into my throat because we had been there maybe a month before he came in and the whole time I was thinking, I wonder if Pat Conroy is ever going to come into my store. I wonder if Pat Conroy is ever going to come down here.
And so he walks down the stairs and you know, there he is, larger than life—Pat! And he's got on the baseball cap and khaki shorts and whatever and he walks in and he holds out his hand and says, "Hi. I'm Pat Conroy." And I'm like, "I know who you are! Very excited to have you here."
So he and "the boys" had just had lunch at the Beaufort Inn because the Griffin Market was closed, and they proceed to joke around and Pat gives Bernie a hard time, and Bernie gives Pat a hard time. So they're in their element there among the books.
So Pat looks around and goes through the whole store and if he found a book that he had written anything at all in that book or if it was his book, he signed them. And I didn't even know it until after the fact because he was off in the backroom. And he bought books. A stack of books. And that just thrilled me to no end. And now I have a ticket that has Pat Conroy's name in it and the books that he bought.
DA: The first time I met him, I actually worked on The Prince of Tides movie, so I used to be the set manager. And he had come to the studio where we were all set up, and I was actually working on a set of Biedermeier chairs for the dining room scene. And I was very intent upon my work and wasn't paying any attention and he was in tow with Barbra and all the rest of the clan and they came around and he stopped to watch me work and that was when he introduced himself and I introduced myself to him.
But I had met him a couple of other times at service funerals. So I had met him at those functions but nothing to ever speak of before he came into the bookstore.
LA: It was definitely fun when Pat Conroy came into your bookstore.
NeverMore's Summer Book Reading List for Book Lovers
We asked Beaufort booksellers, Lorrie and David Anderson of NeverMore Books what they would put on their Top 10 List if they were compiling a "Summer Book Reading List" for the seriously obsessed reader. Here's what they came up with:
A Gentleman in Moscow by Amor Towles
One Good Mama Bone by Bren McClain
Huck Out West by Robert Coover
The Drive: Searching for Lost Memories on the Pan-American Highway by Teresa Bruce
The Cigar Factory by Michele Moore
The Night Circus by Erin Morgenstern
Swamplandia by Karen Russell
The Sisters Brothers by Patrick deWitt
Shadow of the Wind by Carlos Ruiz Zafon
After Alice by Gregory Maguire
Bonus: Geek Love by Katherine Dunn
About Mindy Lucas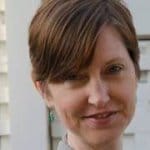 As a reporter for the State, Island Packet, and Beaufort Gazette newspapers, Mindy Lucas covered book news and literary events such as the South Carolina Book Festival and Columbia's One Book, One Community city-wide "big read." She also interviewed writers including Larry McMurtry, Ron Rash, Mary Alice Monroe, Ellen Malphrus, James E. McTeer II, and of course, Pat Conroy. Prior to her newspaper career, Mindy was a freelance journalist for publications around the southeast and an advertising copywriter. She is now a content strategist for a Columbia-based marketing communications firm and lives with her husband David and their cat Earl in Beaufort, South Carolina, just a bicycle ride away from the Pat Conroy Literary Center.