A Note about Pat Conroy cemetery:
Pat is buried in St. Helena Memorial Gardens cemetery ((Ernest Drive, Saint Helena Island, SC 29920) a decision Pat made facilitated by his life-long friend Roland Gardner, who has deep roots in the Gullah community.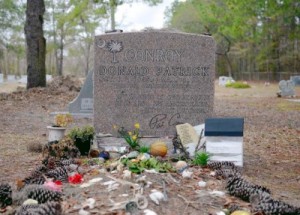 Pat first met Roland at an event at the Penn Center on St Helena's Island while both were in high school, at a time when schools were still segregated in South Carolina. Pat went on to become a bestselling writer and Roland a nationally recognized as a leader in community medicine. Gardner is the revered CEO of Beaufort Jasper Hampton Comprehensive Health Services, serving three counties in South Carolina. He is also a member of the founding board Pat Conroy Literary Center.
Three weeks before Pat Conroy's death from pancreatic cancer, Roland advocated for his friend, making Pat the first white person to be buried in this cemetery near the Penn Center, a National Historic Landmark and the site of the historic Brick Church and one of the country's first schools for formerly enslaved people. The Penn Center is widely recognized as one of the most significant African American historical and cultural institutions in the United States. Those who knew Pat best believed his unspoken last act was that of a teacher: he wanted his readers to receive an important education in Civil Rights History. And that is one of the many things that the Pat Conroy Literary Center in Beaufort works to accomplish.
In a strange twist of fate, Pat's grave is a few plots away from Agnes Sherman's who, way back, supported school superintendent Dr. Walter Trammell in his firing of Pat from his teaching job on Daufuskie Island, an act that led Pat to write The Water is Wide, his first published book, one that was made into a feature film, "Conrack" His book and the subsequent movie inspired many idealistic college students in the 1970s to become teachers.
Directions to Pat Conroy cemetery:
From downtown Beaufort take the Sea Island Parkway over the Woods Memorial Bridge. You have to go a few miles and through 6 stop lights. The 5th is Dataw Island and a few hundred yards away is the 6th stop light at Martin Luther King Jr. Blvd. Take that right. From the bridge to MLK Blvd. is approximately 4-5 miles.
Shortly on the left you'll pass the Ebenezer Baptist Church but right after that, on the left,  you will see the famous Baptist Brick Church where Martin Luther King Jr. prepared his famous "I Have A Dream" speech. Across that on the right is Pen Center. The drive on MLK Blvd. is about 1.5 mile.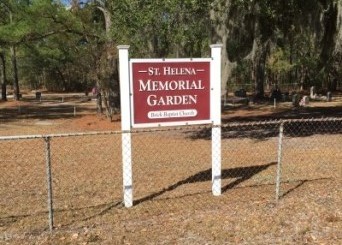 You'll arrive at a Y intersection. Take a left (watch incoming traffic!) – you'll be on Club Bridge Road – slow down because you'll have to turn left on Ernest Drive just 50-60 yards on the left off Club Bridge Road. This is easy to miss and you'll go out far from the cemetery so pay attention!!
Go on Ernest Drive about 1/3 of a mile. The cemetery is on left and has a small square sign: "St.  Helena Memorial Garden". Drive in the cemetery about 50 yards; Pat's grave is right there on the right.