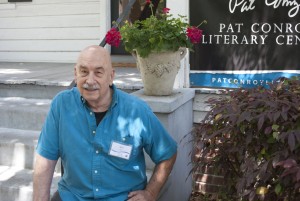 "I think the Center is on a path to pull together all these disparate literary forces that have been going on for years and years here. Not just writers, but readers and people in the book industry on every level…."
To Pat Conroy, he was that Will Balk. When not answering questions from visitors at the Pat Conroy Literary Center, William "Will" Balk Jr., who serves on the center's advisory council, also writes a garden column for Lowcountry Weekly and is a regular contributor to the online journal, Weekly Hubris. Born and raised in South Carolina, Balk has also lived in Washington, D.C. where he taught textile construction and design for the American Textile History Museum. But the role many in the Beaufort area may remember him best for was as a longtime bookseller at the Bay Street Trading Co., Beaufort's iconic independent bookstore, which closed in 2010.
 Mindy Lucas: Welcome to Porch Talk. Glad to have you here.
Will Balk: Thank you.
ML: Let's talk for a minute about where we find ourselves on this lovely, breezy afternoon in Beaufort, here on the front porch at the Conroy Center just a block from Bay Street. You're the volunteer coordinator for the Center and you're also a volunteer yourself. Tell us a little about what that's like.
WB: This is not too different from the most exciting parts of retail and I love retail, most of the time, because it's a constant new encounter with someone with another point of view, and another life experience. We get all kinds of people strolling through. What's particularly exciting is the Conroy Center has sort of taken as its motto, "Tell me a story." We picked that up from Pat. And that is just the most exciting thing in the world. We get to hear all these incredible stories—often about Pat. It's just amazing. You think, "How can this one man have touched this many lives?"
ML: It sort of ripples out.
WB: Yes. If you've lived for any time in Beaufort, everybody says they knew Pat and they did. And half of those people say they went to school with Pat. The size of that classroom must have been in the thousands, so you take it with a grain of salt—but in fact, the same applies across the country. There are thousands of thousands of people who knew Pat Conroy and they each have a story about Pat. And that is real. There are people who have wept here from being in this place and they never met Pat in person. They only know him from his books. And the people who know him from his books, know him about as well as anyone could.
ML: What are some of the more commonly asked questions you get—particularly from those who aren't from this area or from our out-of-state visitors?
WB: One of the things that is pretty consistent now is that they love the house. So they ask if Pat Conroy lived here. And so I explain that there is no connection to Pat, other than we've been so fortunate to be located in a very typical kind of Beaufort old-fashioned house. But very early on it became one of the discussions among the volunteers. One of the things that came up … is that we agreed that if Pat were among us he would direct his attention to the questioner and say, "I was born in that room at the top of the stairs." Pat would always have a story. I mean he'd tell a lie left and right. (Laughing)
ML: Do they ask for directions to other sites?
WB: Most often the question is for directions to a bookstore or restaurant. But inevitably, some want to know where Pat's gravesite is and would like some indication of where a downtown house is that Pat lived in. Something physical connecting to him. That's why the room full of memorabilia is important because it is physical, sort of an invocation of Pat, something to touch that Pat touched. And that does mean something to the people who cherish him so much.
ML: How did you get involved with the Center? Did you decide you would volunteer or were you roped into it? (Laughing)
WB: I was roped. (Laughing) Sandra [Cassandra King Conroy] called me last year. Many of us from the bookstore still get together.… And among that group of friends were Pat and Sandra and a lot of other people too. When we had one of our gatherings, as we often did, we would let Pat and Sandra know where we were meeting to have a meal and they would often show up.
Well after Pat died, we let Sandra know we were having a meeting. This was last summer and so during that get-together she said that, while it was too soon to be specific, a group of friends and family had pretty much come to an idea that was going to do Pat's legacy the right way. Well, immediately we decided that whatever it was we were going to support it however we could. Because certainly Pat and Sandra supported us uncountable ways over the years.
And then some time after that, the announcement came that there would be a literary center—and it was a perfect idea.… And sometime last fall, Sandra asked me if I'd be willing to be part of it, as she did with a number of people. Well, you can't turn down Sandra. You can't. And you wouldn't want to. Ever. So that's how I got involved.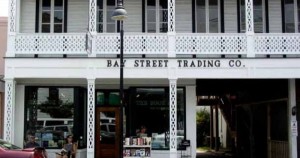 ML: Not to switch gears too dramatically, but since you mentioned the bookstore, how many years did you work for the Bay Street Trading Co.?
WB: I started working for the bookstore in '91 or '92 and I worked there until 2008. Even after it changed hands. I worked with the new owner for a while and then gave up on that.
ML: As I recall, it wasn't a big staff.
No, it was always fairly small. Five or so at any given time.
ML: And when the store closed in 2010, devastating area book lovers and lovers of independent bookstores in particular, what was that like at the time?
WB: It was a special bookstore in a lot of ways. Any bookstore is special and Beaufort is extremely lucky to have kept on having bookstores for years. Good, wonderful bookstores each with their own personality. And that is, I think, what independent bookstores really are about. But this bookstore—the Bay Street Trading Co.—had originated 50 years before when the Hoogenboom family had opened an office supply place with a bookstore corner. A book and card corner.
In the '70s, I think the Hoogenbooms were ready to sell the business and they sold it to Christine and Steve Stanley who had come down from Ohio. Chris and Steve ran it with the aim of eventually selling off the office business and operating a full-service bookstore, which they did. After Steve died, it had become truly a destination bookstore for the Southeast and offered a larger range. I mean it was a very special bookstore. And it was the bookstore for Pat Conroy. It was his hometown bookstore.
ML: And so when Pat had a book out, that was the tradition—to have a book signing there. Can you talk a little about what those signings were like?
WB: Not so different from anywhere else because whenever he had a book signing anywhere it was always a madhouse. Bay Street would have a line from one end to the other with people waiting for hours to have their books signed.
We were, up until the time we sold the store, the only bookstore in the country that had a signing for every single one of Pat's books and that includes The Boo. [Conroy's first book.] It was unique in all the world in that way.
ML: His signings were an event for the town.
WB: That's right. They were. They were certainly unusual events and they were rare events too. Pat's books didn't come every year like some writers. I mean they were long, struggled-over works of art. But they were very special for us, and we focused on them for months before we felt we were able enough to have one.
ML: Were staff excited on those days?
WB: Always. Always. They were huge days!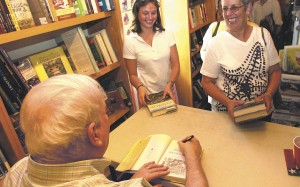 ML: And so, to shift gears again, at one point, Beaufort had something like three independent bookstores—Bay Street Trading Co., Firehouse Books, and Beaufort Bookstore. And during this time writers like Pat Conroy, Cassandra King, Lois Battle, Mary Alice Monroe, Roger Pinckney were writing and right up the road in Columbia, where I lived for many years, were also folks like James Dickey and William Price Fox at the University of South Carolina. And now we're seeing that tradition continue with new voices such as Ellen Malphrus and James McTeer II.
So let's talk for a bit about this idea of the literary Lowcountry, because I think you've had a front row seat to a lot of things, which has afforded you an interesting perspective on things. When you were with the bookstore, did you ever run into people or even now when you interact with visitors from other parts of the country, are they surprised by the idea that the South, and this area in particular, has this literary tradition?
WB: No one seems to be surprised by it. Everyone expects it. I mean, maybe if we were to try and list everyone who was writing at the time, it's easily possible to be overwhelmed. Certainly awed. But I think there is a general expectation that there is a kind of gift to this area of the literary voice. It is unusual, but again there's been so much of a focus on it for so many years and all through the South and in particular with Pat and Beaufort.
I don't think people are really surprised by that. I think people just want to be a part of it and sort of want to absorb something from it either for their own writing projects or to get closer to the writer.
ML: You mentioned the idea of the destination bookstore. What is your sense of Beaufort itself as a literary destination. Do you think people are coming here specifically because of Pat Conroy—and now because of this Center?
WB: I wasn't sure what might happen at the beginning when the concept was announced, but it was the perfect reflection of Pat's legacy and I knew all that. And I knew especially once Jonathan [Haupt] came on board [as the Conroy Center's executive director] that it was going to succeed at whatever it was doing. I think the Center is on a path to pull together all these disparate literary forces that have been going on for years and years here. Not just writers, but readers and people in the book industry on every level from printers to a lot of old bookstore people.
The Center is on a path which can pull those things together in a way that I don't think has ever really been possible before and it has the potential for making this—through its own efforts and with the collaborative efforts of everybody else—for making this area a place for some of the most vibrant literary work going on in the Southeast. I've gotten a very powerful sense of that.
ML: It has a strange synergy to it, not to use a hoaky marketing term, but I think it does.
WB: There are coincidences that are true and when they happen in certain ways something builds on something else. And then suddenly you've got a really serious turning point happening.
ML: I'm smiling because Jonathan and I had a conversation awhile back about Pat's love of coincidence and of circularities. He was intrigued by the idea of how your path crosses the paths of others and what that might mean. Do you think he would be tickled by all this, that we are sitting here talking about that very thing and how things sometimes ripple out? Maybe in some way, that's part of his legacy.
WB: I think he would claim to hate that his name is all over it, but he would secretly love it. (Laughing)
ML: Like Pat did when Jonathan created a festival with his name?
WB: Yes!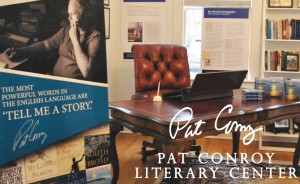 ML: But who knows. Whether its kids in a classroom somewhere reading and enjoying books, or people coming to the Center, all of it in some way is trying to keep the spirit of the humanities alive—literature, reading, the arts. Wouldn't he love that?
WB: Yes, he would. He certainly would.
ML: How would you describe what has happened with independent bookstores over the last decade or so since the advent of digital publishing and online retailers and where do you see it going?
WB: I have real trouble seeing the future. Many, many years ago before there was an Amazon.com, the direction of bookselling and book writing and the book business all seemed very clear. And then all of a sudden the world changed. I mean it really changed and it changed fast. And we knew. It was clear to the entire book industry that with Amazon and digital publishing we were doomed. I mean it was just clear. Except to Steve Stanley.
Before there was an Amazon, the big threat was the big box bookstores—the Waldenbooks, Barnes & Noble. So before the Amazon threat there was this huge threat and it was an existential threat, because they were going to take over everything. There was no place for small bookstores. But Steve said, "let them come. I can take them on. We can handle them." And he never worried about it. With Amazon, by the time he died, it was a very significant presence, but it had not radically altered our business in any significant way.
People used Amazon as a resource but people who loved books—and the idea of looking for books and shopping for books and talking about books—those people still go to bookstores. And that's a separate market from those who just want something to read. Amazon's got that market.
But people still do love books and…now bookstores are growing again. There are more independent booksellers than there have been in recent years. So some things haven't changed other than a growing appreciation for what the differences are. The independent bookselling business has certainly become a sophisticated retailer. The book expert.
ML: Since you mentioned everyone has a Pat story, what's your Pat story?
WB: Oh lord. Everyone has a Pat story. They do. They literally do.
I'm hesitant to say I have a Pat story because in some ways it's not an adequate statement of my feeling for him or my relationship with him because they are anecdotes, but I do have Pat stories.
Ok. Pat was a good, regular customer at the bookstore, and he would come in to visit and to see what was new. But when I had just started working in the bookstore, I had never met Pat Conroy. I had read his books and knew who he was, I knew he was in Beaufort, but I thought he was not going to be wandering in to this little store.
I was working in the bookstore one day and everybody else was gone. There was no one in there. Not a single customer. And this ramshackle, poorly clothed balding raggedy guy shambles in, nods and heads on back to the back of the store.
Well, I had been in the bookstore business long enough to know a potentially serious character, or threat to the bookstore. Someone who might do something not quite right. But you don't know for sure, so you just want to take care of business.
So I just went and hung out and offered to help. And offered and offered. Too much help! Usually that will give them the idea so they say, "I'm out of here." They don't want to be watched.
But Pat, or rather this ramshackle customer, turned to me and said, "Oh yeah sure. What do you know about this book, and do you have any other suggestions?" And then he would ask for more! I was just exhausted. I gave up. I decided he could do anything he wanted and left him alone. Of course, it wasn't until he left and paid with a credit card that I realized who he was.
Years later when Beach Music was being written, we all knew he was working on something new and working on something that had to do with the '60s. So one day I was in the store and Pat came in, looked straight at me and said, "You're that Will Balk." I said, "Yeah." He said, "You were the topic of a conversation last night at dinner. And now I know your story."
He had been to supper with mutual friends on St. Helena. These are people that I had been to Carolina with and there was a discussion of the new book and one major focus of Beach Music was a series of radical events that happened at Carolina. And I was at the center of that.… But the central figure of the book was the central figure of a number of people's lives involved in the radical politics at the time. And this person had utterly screwed his closest friends. And it caused great hurt and great pain and great legal consequences, but what Pat had learned was that he had been writing this story and I was there at the center of the real events.
One other anecdote was when we had our opening in October here at the Center, we had all these wonderful things from the Pat Conroy Archives on display. And I had read some of the manuscripts and letters, but there was this one I had not read. It was just a single page letter that I had never seen. It was the letter he had written home to his parents the first night after his first day of teaching on Daufuskie. One page.
And within that page, the entire story of The Water Is Wide was laid out. I mean not laid out as a book plan, but I mean laid out after the first day of meeting these students. He had just seen what was to become that book. Every bit of poor training, every bit of brilliance, every bit of inspiration, every bit of everything was right there and laid out in that one, short letter.
ML: I'm sure that experience was weighing heavily on him.
WB: Oh, anyone who has ever taught always goes to The Water Is Wide as the book of Pat's that really changes everything for them. And this letter really changed how I saw him and his teaching.
There's a kind of mythical weight that Pat carries with him, this myth of his powers as a storyteller, his powers as a writer, his teaching powers as an inspiration. All of that. And you know, some of it is massively exaggerated, but when you see something like that letter, you know it's real.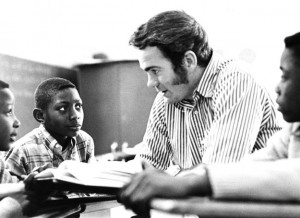 ML: I think that's a perfect way to end. Thank you so much for telling those stories and for talking with me today. Is there anything else you'd like to add or that I've overlooked?
WB: Well these are brief little vignettes, so I'm sure there's lots more we could talk about! (Laughing)
ML: There always is.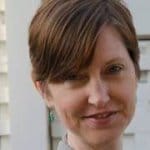 About Mindy Lucas:
As a reporter for the State, Island Packet, and Beaufort Gazette newspapers, Mindy Lucas covered book news and literary events such as the South Carolina Book Festival and Columbia's One Book, One Community city-wide "big read." She also interviewed writers including Larry McMurtry, Ron Rash, Mary Alice Monroe, Ellen Malphrus, James E. McTeer II, and of course, Pat Conroy. Prior to her newspaper career, Mindy was a freelance journalist for publications around the southeast and an advertising copywriter. She is now a content strategist for a Columbia-based marketing communications firm and lives with her husband David and their cat Earl in Beaufort, South Carolina, just a bicycle ride away from the Pat Conroy Literary Center.