Cassandra King and Jonathan Haupt will speak about "A Generous Lowcountry Heart: Building on the Legacy of Pat Conroy" at First Presbyterian Church on Hilton Head Island on Wednesday, April 26th.  Free and open the public, this program will begin at 6:30 pm. An optional dinner will be served at 5:30 pm for a cost of $10. (Dinner reservations are required by 5:00 pm on Tuesday, April 25th; please call 843-681-3696.) First Presbyterian Church is located at 540 William Hilton Parkway on Hilton Head Island, South Carolina. Additional details can be found here: www.facebook.com/events/1492797900743343
Cassandra King is the author of five novels, most recently the critically acclaimed Moonrise, her homage to the gothic classic Rebecca by Daphne du Maurier. She's also the author of the recent nonfiction book The Same Sweet Girls Guide to Life: Advice from a Failed Southern Belle. This same sweet girl and failed belle from L.A. (Lower Alabama, y'all) famously met her late husband Pat Conroy when he wrote a blurb for her first novel, Making Waves. In some ways that circle has now completed itself in King's beautiful introduction to Conroy's posthumously published collection of nonfiction, A Lowcountry Heart. Pat Conroy's brother Tim has said that, since his brother's death on March 4, 2016, we are never closer to Pat's lowcountry heart than when we are in the presence of Cassandra King, and in this conversation Cassandra shows us the truth in that beautiful statement.  
(Portions of this interview previously appeared in the inaugural issue of Shrimp, Collards, and Grits magazine and in Lowcountry Weekly.)
Jonathan Haupt: You've written about how you first met Pat, writer to writer, and how your deep friendship blossomed into a great love. When did you first come to the lowcountry with Pat, and what were your first impressions of your new home?
Cassandra King: I first came to the lowcountry with Pat sometime in the late spring or early summer of 1997, so it's coming up on twenty years ago. My first impression was surreal. I felt exactly as though I were in the middle of a Pat Conroy novel. It was also like something out of The Lion, the Witch, and the Wardrobe, as though a magical door had opened to a real-life Narnia and I had disappeared into this amazing new dreamscape of a world. I had vacationed in Savannah several times, and I had some day trips to Charleston, but I had never been in Beaufort before. That this part of the lowcountry could be exactly as Pat described it in his books blew my mind, and to have made a home with Pat here in Beaufort is an experience I wouldn't trade for anything.
JH: So far, you've avoided writing about the lowcountry in your novels, that being Pat's literary territory and you having your own. But now that you're writing a memoir of your marriage to Pat, will you be at last delving into your own lowcountry writing?
CK: Well, I'd already begun to soften my stance on not writing about the lowcountry, even before I started writing the memoir. My first was a contribution to the University of South Carolina Press's State of the Heart book series, where I wrote an essay about what it was like to move to the lowcountry.
JH: As Pat did with his foreword for the original State of the Heart, you set a high bar for the collection, so your piece is actually going to be the afterword to volume 3.
CK: You mean I finally get the last word in something Pat started? Well, it only took twenty years.
Coastal Living asked me to write some articles, and one of those was about living on Fripp Island, so that too got me writing about the lowcountry. Actually, not writing about the lowcountry for so long wasn't a conscious decision; it was just that I already had several books in mind when I came here, and each one had settings I was more familiar with. But I've been asked several times if I ever planned on setting a book about the lowcountry, and my response was always, "Naw, I think Pat has that territory covered." And I still think no one will ever do it better than he did.
JH: The memoir you're writing is also a cookbook, what's sometimes called a food memoir (akin to Pat's own cookbook). Cooking was another passion you shared with Pat. What's a favorite memory of cooking for or with Pat?
CK: It's hard to pin down one favorite memory because there are so many. A bittersweet memory is the Great Santini's last birthday dinner, which Pat and I hosted in April 1998, almost one month to the day before Col. Conroy died. He was in the hospital and allowed to come home for the occasion, still in his hospital gown. The whole family was there, and everyone brought dishes. Pat had made a roast of lamb as the centerpiece, and I made three birthday cakes: a yellow cake with chocolate fudge icing, a strawberry layer cake, and my mama's pound cake. (The recipe's in Pat's cookbook, and it's the richest pound cake you've ever tasted.) The Great Santini wasn't able to eat anything, but seeing the huge spread and three birthday cakes obviously gave him great pleasure.
JH: He enjoyed the meal vicariously, and likely the company most of all.
CK: I think so. A fond memory I have of cooking for Pat involves my she-crab soup. He swore no one made it better, and I modestly agree with him. It's a recipe I've had for years, and my kids have always loved it, but when I first made it for Pat, he took it to a whole new level of sublimeness. I'd always used claw meat because it's cheaper, but Pat insisted on lump crab. I probably fixed it about once a month since he loved it so much, and I always made homemade bread to go with it.
JH: A writer friend once told me that the secret to his long, happy marriage is that it took one person to write novels and the other to do everything else. Yet you wrote recently, speaking of your marriage to Pat, that writers should only marry other writers. What was it about your marriage that gave you both such joy and fortitude?
CK: I need to clarify that statement, so I'm glad you asked. Writers should only marry other writers if they're OLD, as Pat and I were when we married. Writers with young kids would probably end up killing each other. (Wife:"Would you give the baby a bottle? I'm in the middle of a chapter." Husband: "Not until I finish this scene." Meanwhile, the poor baby's crying and neither gets their work done.) All kidding aside, it worked for Pat and me because we both understood that writers need a lot of solitude, and a lot of space. We aren't always going to be available, either emotionally or physically. Obviously, that can cause problems in a marriage, but because we knew that about ourselves by then and appreciated it in one another, it worked for us.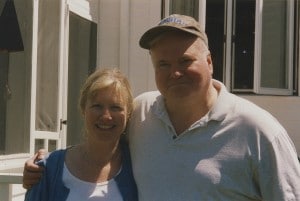 JH: Your novels speak beautifully about sustaining bonds of friendship. What have been some of the most enduring friendships in your own life?
CK: I have a wonderful group of women friends, and we've called ourselves the Same Sweet Girls for several decades now, ever since our college days together. I wrote a fictionalized version of our friendship as my third novel. We're a diverse group, which makes it more interesting, and we've been through so much together. Now that we're all retired (or at least, of retirement age), we've become even closer because we have more time to spend together. And I have always had a lot of male friends as well. Maybe because I didn't have a brother, my male friends have been like brothers to me.
JH: You've also written about Pat's promise that you'd always have a writing room of your own. What's your writing space like?
CK: When I married Pat, he insisted I take any room in the house that I wanted and make it my writing room. It was something I'd never had before. When I was teaching, I used my office (after hours only, of course!), or I just grabbed whatever corner of the house I could find to work in. Pat thought it was important that we each had our own space, and I loved that. I fixed my room up with all my beloved mementos, photos, artwork, books, and so forth, and I'm really selfish about it. Now I work by a bright, sunny window with a view of Battery Creek, and I have music playing to drown out other noises. It's my refuge, and I spend as much time there as I can.
JH: There's a tremendously supportive spirit among South Carolina writers and among Southern writers more generally. Have there been particular moments when you felt like you had been welcomed into the circle of southern writers?
CK: I had a great group of writer friends in Alabama before I moved here. We were mostly teachers, which meant we couldn't afford to travel to a lot of book festivals unless we shared. We'd pool our resources, then pile up in a room together, and it was great fun and camaraderie. When I came to South Carolina, I felt embraced by Pat's group of writer friends in a really loving and supportive way. And I've made friends among other writers, too, traveling around to the festivals and readings where we congregate. They're like family reunions in that way. I like having writer friends because we understand and commiserate with each other. One of my friends, Dottie Frank, forwards me her nasty emails from her more critical readers and asks what she should tell some of these nice people. My response is always the same, "tell 'em to kiss your royal behind." (I don't always say it that nice.)
JH: As a former writing teacher, what's the one piece of advice you think every burgeoning writer needs to know? And what's something that you've tried to instill in students that you wish you were better at yourself?
CK: We need to hear that it's okay to nurture our desire to write. We don't have to apologize, to fear that we're wasting our time, or that we're not spending enough time with others when we're writing. You might never get published, but you can express yourself in writing, explore your feelings, try to understand the world we live in, and try to understand yourself. You can be a writer without being a commercial success. You should never, ever compare yourself to another writer—either to come up short or to elevate yourself as the better writer. Both attitudes are self-destructive. I tried to teach my students that reading everything you can is essential to developing your skills as a writer. And although I truly believe that, I tend to read only books that I like, not necessarily a wide variety of genres that I could learn from.
JH: What books would you recommend to writers? And what books do you like to revisit for inspiration?
CK: I find books about writing to be inspiring, though I confess I don't read them as often as I should! They never let me down. I usually find at least one good tip or some words of wisdom to mull over in a book written specifically for writers. So yes, those kinds of books can be truly helpful, especially if you've been in a slump about writing and need a kick in the pants to get going again. But for inspiration, I love to return to the classics—Dickens, Austin, the Brontës, Virginia Wolf, Tolstoy, Harding, Faulkner, Welty, Fitzgerald. Reading them, I'm reminded why they're considered classics.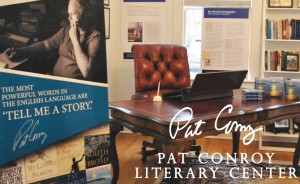 JH: With a group of friends and family, you've created the new Pat Conroy Literary Center, a living legacy to Pat that will be a haven for writers, offering educational and culturally enriching programs across genres and arts. Like Pat himself, the Center will make its home in Beaufort but have a presence resonating across the South. What do you hope the Center will become?
CK: I want the Center to be just that—a haven for everyone who loves the written word as Pat did. I love the idea of a "haven," and its connotation of warmth and inclusiveness. The Center can be a place for meeting and sharing with likeminded writers and readers, which will make it beneficial to all of us. Recently I talked with a woman who was excited about the Center, but as a reader and not as a writer. She was enthusiastic about the kinds of programs we might offer readers like her. I hope that we can partner with other organizations and with schools to offer students and our communities opportunities they might not have otherwise. As we all know, when budget cuts are made in education, the humanities are the first to go. We hope to bridge that gap. And the Center is already drawing people to Beaufort, making it a growing site for literary tourism, thanks to our many wonderful supporters. Before we were fully ready to have open hours for visitors, we had to hustle and round up some volunteers because of the demand. It's so rewarding to have folks clamoring for us to get going!
JH: The Center is, in its way, taking up Pat's role as a mentor and advocate for emerging writers. Who were some of the most influential mentors in your own writing life?
CK: I was one of those kids that teachers and librarians love because all I wanted to do was read. I couldn't get enough, and vowed when I was in elementary school that I was going to read every book in the school library. Believe me, in the small town I'm from, that wasn't too hard of a task to pull off. As long as I can remember, my teachers fostered my love of reading and writing. In college, my creative writing professor became my mentor and urged me every step of the way to send my first book to a publisher. From my own experiences, I know that mentors are absolutely invaluable to emerging writers, and I want the Center to be able to offer that kind of support.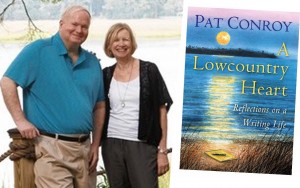 JH: You've written a loving, heartrending introduction to the new collection of Pat's recent nonfiction, A Lowcountry Heart. For you as a writer and as a reader, what's the quintessential book you think everyone with a lowcountry heart should read?
CK: Any and every book by Pat Conroy, including A Lowcountry Heart. There are many, many wonderful lowcountry writers with great books, but Pat's the master and I think he always will be.
About Jonathan Haupt
Jonathan Haupt is the executive director of the Pat Conroy Literary Center, the founding director of the annual Pat Conroy Literary Festival, and the former director of the University of South Carolina Press. He serves on the boards of the South Carolina Academy of Authors, Deckle Edge Literary Festival, and the Friends of South Carolina Libraries. With his wife Lorene and their quartet of rescued pets, he lives near Beaufort, South Carolina.