"Wholeness. It all comes back. It's all a circle."–The Prince of Tides
Explore the faith and spirituality of best-selling author Pat Conroy (1945–2016) as reflected in his turbulent life and beloved books—from his Roman Catholic upbringing to The Citadel's honor code to themes of spirituality in his beloved books to his life of service as a mentor to his fellow writers. Presented by Jonathan Haupt, executive director of the nonprofit Pat Conroy Literary Center, this program will include excerpts from writings by and about Conroy as well as published and unpublished photographs.
Hosted by the Athens Chautauqua Society, this free online event is limited to 50 participants. Please register in advance at
http://historycomesalive.org/event/patconroy
Contact athenschau@gmail.com with any questions.
Website: Facebook Event Page
About our Presenter: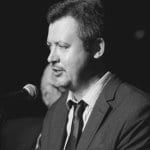 Jonathan Haupt is the executive director of the nonprofit Pat Conroy Literary Center and co-editor of the multi-award-winning anthology Our Prince of Scribes: Writers Remember Pat Conroy, published by the University of Georgia Press. Haupt's book reviews and author interviews have appeared in the Charleston Post and Courier, Savannah Morning News Beacon Magazine, Beaufort's Lowcountry Weekly, and the Southern Review of Books. He is the host of the monthly Live from the Pat Conroy Literary Center author interview podcast and an associate producer of the SCETV author interview program By the River.

This program and others like this would not be possible without your financial help for which, as always, Pat Conroy Literary Center gratefully thanks you.