"The great teachers of the world fill you up with hope and shower you with a thousand reasons to embrace all aspects of life."—Pat Conroy
Explore best-selling author Pat Conroy's reverence for the art of teaching and his own legacy as a teacher. Pat Conroy Literary Center executive director Jonathan Haupt will discuss informative, inspirational profiles of representative teachers from Conroy's formative years as a student at Beaufort High School and profiles of Conroy's own students at BHS and on Daufuskie Island. Using photos and excerpts from published and unpublished writings by and about Conroy, this 60-minute presentation will broaden our appreciation for the beloved writer's great love of teaching and of his adopted home in the South Carolina lowcountry. This program also includes an overview of the nonprofit Conroy Center in Beaufort, which continues Conroy's legacy as a mentor.
This educational program is open to members of SALT (Senior Adventures in Learning and Travel).
Website: Facebook Event Page
About our Presenter: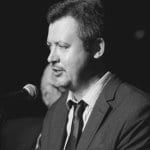 Jonathan Haupt is the executive director of the nonprofit Pat Conroy Literary Center and the former director of the University of South Carolina Press. Jonathan's book reviews and author interviews have appeared in the Charleston Post and Courier, Beaufort Lowcountry Weekly, Beaufort Lifestyle magazine, Savannah Morning News' Beacon magazine, the Southern Review of Books, and Southern Writers Magazine's Suite T blog. He is co-editor with Nicole Seitz of the multi-award-winning anthology Our Prince of Scribes: Writers Remember Pat Conroy. He is also host of Live from the Pat Conroy Literary Center, a monthly author interview podcast on the Authors on the Air Global Radio Network, and associate producer of the TELLY Award-winning SCETV author interview program By the River.
Jonathan serves on the boards of the South Carolina Academy of Authors and the Friends of South Carolina Libraries and on the advisory board of the South Carolina Humanities and the affiliates committee of the American Writers Museum. Under Jonathan's leadership, the Conroy Center has been honored as South Carolina's first affiliate of the American Writers Museum, second American Library Association Literary Landmark, and winner of Beaufort's 2019 Civitas Award for Tourism Leadership. Earlier this year, Jonathan was recognized with the Doug Marlette Literacy Leadership Award presented by the Pulpwood Queens, the largest book club in the U.S.

This program and others like this would not be possible without your financial help for which, as always, Pat Conroy Literary Center gratefully thanks you.