The Pat Conroy Literary Center, in partnership with the Beaufort County Library System, presents CAROLINA ON MY MIND, a five-book Let's Talk about It discussion series supported by a grant from South Carolina Humanities. Each free public event will feature a different visiting scholar or discussion leader presenting on book representative of the South Carolina experience. Copies of all five books featured in this series will be available for circulation through Beaufort County Library's main branch, thanks in part to the South Carolina State Library.
This program is sponsored by South Carolina Humanities, a not-for-profit organization inspiring, engaging, and enriching South Carolinians with programs on literature, history, culture, and heritage.
BOOK 5: Rebecca T. Godwin's Keeper of the House
Discussion leader: author Rebecca T. Godwin
Rebecca T. Godwin's Keeper of the House (1994) is an unforgettable novel narrated by the lively Minyon Manigault, a young black woman from a coastal South Carolina Gullah community. In 1929, due to mysterious family circumstances, Minyon is given up by her grandmother to the employment of Ariadne Fleming, a white madam in the famously elegant brothel called Hazelhedge (modeled after South Carolina's infamous Sunset Lodge). At the age of fourteen, Minyon becomes a pair of eyes and hands, watching and working almost invisibly in a world where men and women leave their inhibition, and their pasts, at the door. As Minyon grows up in the household with other black people who provide behind-the-scenes support of Hazelhedge, she cannot escape her haunting childhood memories. Even while bearing witness to the events unfolding around her, Minyon seeks to find her place in the world, and her pace within herself.
"Godwin's greatest achievement in this fiction 'born of fact' (a noted house of prostitution existed in the same setting as Hazelhedge) is Minyon herself–her lively and amiable voice displays notable variation, complexity and depth. Narrated in the colloquial Gullah dialect spoken by many African Americans in the South, the novel touches on 20th-century race relations, but readers will be more affected by its human issues of motherhood, self-discovery and moral strength."—Publishers Weekly

"This is a wonderful, lyrical, and touching story. Highly recommended."—Library Journal

"Godwin tells the engrossing story of a world-renowned South Carolina house of prostitution, from its inception during the Depression to its growth during World War II to the end of its 40-year life…. Throughout, we are privy to the secrets of a public house and a memorable cast of strong female characters, black and white."—Booklist

"An impressive, contemplative, and introspective second novel…. Hazelhedge is like a bottled miniature of the outside world, and Godwin paints it well, picking up nuances in speech and movement that lend depth to an already vivid portrait. A strong, clear story–food for thought."—Kirkus Reviews

"A beautifully mesmerizing tale that will long be remembered. An absolute triumph."―Jill McCorkle
Website: Facebook Event Page
About our discussion leader (and the novel's author):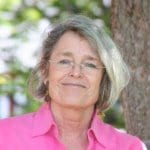 Rebecca T. Godwin is the author of the novels Keeper of the House and Private Parts. She received a National Endowment for the Arts fellowship for a portion of Keeper of the House; an excerpt from the novel also appeared in The Paris Review. After working at Bennington College for more than twenty years as an editor and a teacher of literature and writing, she has returned to her native South Carolina, where she continues to write.
Carolina on My Mind: A Let's Talk about it Series
10/10, 5:00 p.m. Elizabeth Robin Discusses Pat Conroy's The Water Is Wide (memoir)
10/26, 5:00 p.m. Bernard Powers Discusses David Robertson's Denmark Vesey (biography)
11/01, 5:00 p.m. Daniel Cross Turner Discusses Padgett Powell's Edisto (novel)
11/15, 5:00 p.m. David Preston Discusses Walter Edgar's Partisans & Redcoats (history)
11/28, 5:00 p.m. Rebecca T. Godwin Discusses her novel The Keeper of the House (novel)