The Pat Conroy Literary Center's Visiting Writers Series welcomes Nicole Seitz, author and artist of The Cage-maker, an illustrated and epistolary historic mystery set in turn-of-the-twentieth-century New Orleans. Nicole will appear in conversation with freelance writer and former Charleston Post and Courier books editor Bill Thompson. Sponsored in part by the Pulpwood Queens book club and presented in partnership with the Beaufort County Library System, NeverMore Books, and Lowcountry Weekly, this event is free and open to the public–and presented in two parts:
2:00-3:00 p.m., a discussion program at the Beaufort County Library System's main branch library (311 Scott St., Beaufort, SC)
3:00-4:00 p.m., a Small Business Saturday book signing and wine reception with light refreshments at NeverMore Books (702 Craven St, Beaufort, SC)
"In her seventh novel, The Cage-maker, Nicole Seitz has crafted one of the most original and fascinating stories I've read in ages. With elaborate settings, mysterious characters, impressive illustrations, and tons of suspense, Seitz has delivered a captivating time-slip novel that escapes the confines of genre and enters that sacred space of darn-good storytelling."—Julie Cantrell, New York Times and USA Today bestselling novelist of The Feathered Bone

"Moving fluidly between both literary forms and time periods, and in prose as gauzy and beautiful as its illustrations, Nicole Seitz's The Cage-maker is, like the birdcage at the novel's heart, something both timeless and completely new. This gorgeous and deeply moving novel is part tomorrow's blog post, part Balzac, reborn in the deep South."—Mark Powell, author of Small Treasons and The Sheltering

"Nicole Seitz's The Cage-maker takes us on an always riveting journey through the lives of a family a century ago. Using their letters we begin to understand the complications of both their lives and their times. She has given us a wonderful story, the gift of a worthy tale for sure."—Robert Hicks, author of The Widow of the South and The Orphan Mother
Website: Facebook Event Page
About the Author: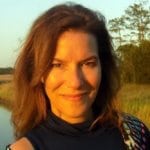 Hilton Head Island native Nicole Seitz is the author of six previous novels, including, most recently, Beyond Molasses Creek and The Inheritance of Beauty. She holds a degree in journalism from the University of North Carolina at Chapel Hill and a B.F.A. in illustration from the Savannah College of Art and Design. She lives in Charleston, South Carolina, where she teaches art and summer workshops for creative writing and illustration. The Cage-maker is based on stories unearthed while researching her own family's history in New Orleans.
About the Interviewer:
Bill Thompson was a book review editor, film critic and columnist, arts writer, and travel writer for the Post and Courier of Charleston, South Carolina, from 1980 to 2012. A graduate of the University of North Carolina at Chapel Hill and a former sportswriter in Virginia and Florida, he has won numerous awards for his writing. In his retirement Thompson frequently reviews and writes for Kirkus Reviews, the Post and Courier, and Charleston Style and Design. He lives in Charleston.