Writing Workshop: Essence of Haiku, led by Miho Kinnas.
Presented in partnership with the Bluffton Book Festival.
$25 Advance registration required at http://essenceofhaiku.bpt.me/ or by phone at 843-379-7025.
This poetry workshop offers the overview of the history of haiku through insightful examples written originally in Japanese and English. The participants will be engaged in the appreciation of haiku craft through thought-provoking quizzes and exercises. Participants will also be invited to write new haiku and will leave the workshop with the inspiration to read, write, and enjoy this engaging form of poetry.
Examples exercise from this workshop:
1) Pick your favorite and tell about one thing that speaks to you.
Mirror / My face where / I left it
—Bob Baldman
The shadow in the folded napkin
—Cor Van Den Heudel
Straining at the pad lock / garage doors / at noon
—Jack Kerouac
moss-hung trees / a deer moves into / the hunter's silence
—Wiona Baker
Five seven and five / seventeen essential oils / for warm winter night
—Stephen Fry
2) Compare & Contrast
Weight lifter / Slowly lifting / The tea cup
—Garry Gay
All the time I pray to Buddha / I keep on / Killing mosquitoes
—Basho
Website: Facebook Event Page
About our Instructor: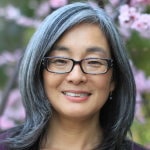 Miho Kinnas is the author of the chapbook Today, Fish Only. Born and raised in Japan, Kinnas lives on Hilton Head Island where she is a member of the Island Writers Network. She holds an M.F.A. in poetry from the City University of Hong Kong. Miho's poems also appeared in Cha: Asian Literary Magazine, 24Pearl Magazine, Real Systems, and Eunoia Review, as well as The Classical Gardens of Shanghai and Quixoteca: Poems East of La Mancha. She was the translator of the poems appeared in Poetry Kanto, Star*Line, and a tri-lingual anthology of haiku, Equatorial Calm.