The Pat Conroy Literary Center, in partnership with the Beaufort County Library System, presents CAROLINA ON MY MIND, a five-book Let's Talk about It discussion series supported by a grant from South Carolina Humanities. Each free public event will feature a different visiting scholar or discussion leader presenting on book representative of the South Carolina experience. Copies of all five books featured in this series will be available for circulation through Beaufort County Library's main branch, thanks in part to the South Carolina State Library.
This program is sponsored by South Carolina Humanities, a not-for-profit organization inspiring, engaging, and enriching South Carolinians with programs on literature, history, culture, and heritage.
BOOK 2: David Robertson's Denmark Vesey: The Buried Story of America's Largest Slave Rebellion and the Man Who Led It
Discussion leader: Bernard Powers
On July 2, 1822, Denmark Vesey and five co-conspirators were hanged in a desolate marsh outside of Charleston, South Carolina. They had been betrayed by black informers during their attempt to set in motion the largest slave rebellion in the history of the United States–an effort astonishing in its level of organization and support. Nine thousand armed slaves and free blacks were to converge on Charleston, set the city aflame, seize the government arsenal, and then murder the entire white population of the city, sparing only the ship captains who would carry Vesey and his followers to Haiti or Africa.
The attempted revolt was a significant episode in American history, yet it, and its leader, have been all but forgotten. In Denmark Vesey: The Buried Story of America's Largest Slave Rebellion and the Man Who Led It (1999), historian David Robertson offers a balanced and gracefully written biography of Vesey, showing how Vesey was able to attract large numbers of blacks to a messianic crusade for freedom. Robertson also details the aftermath of the failed revolt, analyzes its social and political consequences, and articulates the essential, disturbing questions it poses to a racially and ethnically pluralistic society today.
"A fascinating historical detective story . . . Robertson deftly teases out tantalizing clues without pushing his speculation too far . . . [His] thoughtful chronicle restores to the record a powerful figure whose story continues to challenge America's vision of itself as a place of equality and harmony."–Kirkus Reviews

"This book is truly something new . . . Robertson is a dogged seeker of truth with a fertile imagination . . . He disinters the secret of those who needed to bury Vesey's outrage and thereby deflect the light from their outrageous treatment of people they made slaves."–Booklist

"Robertson's well-researched narrative and smooth style make this an intelligent analysis of, as well as a worthy tribute to, his subject."–Publishers Weekly
Website: Facebook Event Page
About our discussion leader: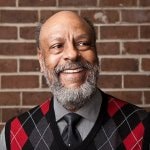 Bernard E. Powers Jr. earned his Ph.D. in American history at Northwestern University and is professor of history at the College of Charleston, where he teaches courses in American, African American and African diasporic history. His major work, Black Charlestonians: A Social History 1822-1885, was selected as an Outstanding Academic Book by Choice Magazine. With Marjory Wentworth and Herb Frazier, he is coauthor of We Are Charleston: Tragedy and Triumph at Mother Emanuel. Dr. Powers has appeared in African American-oriented documentary films, including most recently the PBS production, The African Americans: Many Rivers to Cross. He has also served as a board member or consultant to private organizations and public agencies promoting historic preservation. Presently He serves on the board of the International African American Museum (IAAM) being built in Charleston, and chairs its Program Sub-Committee.
Carolina on My Mind: A Let's Talk about it Series
10/10, 5:00 p.m. Elizabeth Robin Discusses Pat Conroy's The Water Is Wide (memoir)
10/26, 5:00 p.m. Bernard Powers Discusses David Robertson's Denmark Vesey (biography)
11/01, 5:00 p.m. Daniel Cross Turner Discusses Padgett Powell's Edisto (novel)
11/15, 5:00 p.m. David Preston Discusses Walter Edgar's Partisans & Redcoats (history)
11/28, 5:00 p.m. Rebecca T. Godwin Discusses her novel The Keeper of the House (novel)