Join us on Tuesday, October 27, at 6:00 p.m., for a free online reading with Tony Ray Morris, author of Deep River Blues, hosted by the nonprofit Pat Conroy Literary Center. Register in advance to attend on Zoom–or see the live streamed video on the Pat Conroy Literary Center Facebook page.
"With the perception of a poet and the knack of a novelist, Tony Ray Morris joins the ranks of some of the finest crime fiction writers. In turn part James Lee Burke, Tennessee Williams, and William Faulkner, Deep River Blues will pull you under and have you gasping for breath." –Craig Johnson
Online Event – Register in advanced here:
https://us02web.zoom.us/webinar/register/WN_jeZhSxc0QC2AUNWFDfuGYw
About DEEP RIVER BLUES
When the body of a young girl washes up on the shores of the French Broad River, Cord McRae, newly elected sheriff of Acre County, Tennessee, suspects her death might be connected to the Glad Earth Farm, a commune just outside the small town of Falston. Guru/leader Levon Gladson and a group of a hundred and twenty-five followers have moved into an old farm that butts up to the Smokies, and Cord suspects they may be growing something more profitable than sorghum cane up in the hills. The mystery's complicated by Cord's investigation into a second recent murder, of an Afghan vet; the growing power of a local "hillbilly" mafia operated by the wily Thorn Reevers; and Cord's own marriage, which is teetering on the edge of divorce over past violence and his on-again, off-again love affair with liquor.
Website: Facebook Event Page
About the Author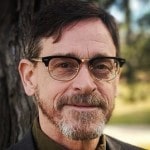 Tony Ray Morris was born in North Carolina and spent his childhood years in the Appalachia Mountains of North Georgia and Eastern Kentucky. Much of his fiction and poetry reflects this region's influence on his imagination. Until his mid-thirties, Morris worked a series of odd jobs (bicycle repairman, window glazer, and encyclopedia salesman) and ended up spending the last ten years before he started writing as a machine operator in a paper factory.
In 1992, Morris quit his factory job, started to college, and found a life in journalism. He began writing poetry and fiction in 1995, earned a Ph.D. in English from Florida State University, and currently teaches creative writing at Georgia Southern University. He's the associate editor of Southern Poetry Review, and director of the Ossabaw Island Writers' Retreat. His poems have been awarded the Louisiana Literature Prize, and the Tennessee Writers Alliance Poetry Award and have three time been nominated for the Pushcart Prize. Along with his debut novel, Deep River Blues, and four books of poetry, his work has also been widely published in anthologies and journals. He lives with his wife, four children, two cats and a dog in a farmhouse nestled in the Southeast.

This program and others like this would not be possible without your financial help for which, as always, Pat Conroy Literary Center gratefully thanks you.