Tuesday July 15, 2022 – 5-6:00 PM EDT
Price: Free · Duration: 1 hr
Registration: Seating is limited; please call to reserve your spot: 843-525-1066.
Venue: Beaufort Bookstore | 2127 Boundary St. #15, Beaufort
Website: Facebook Event Page
The Pat Conroy Literary Center and Beaufort Bookstore will host a launch event for To My Dreamcatcher, the newly published third collection from award-winning poet Elizabeth Robin, in conversation with fellow poet Barry Dickson, author of Maybe Today.
Free and open to the public, this event will be held at the Beaufort Bookstore (2127 Boundary St. #15) on Friday, July 15, at 5:00 p.m. Books by both authors will be available for sale and signing. To reserve a seat, please call 843-525-1066.
"Elizabeth Robin's To My Dreamcatcher is a wonderfully crafted collection of adventure, acceptance, loss, and rebirth that leaves her readers craving more with the turn of every page."–Alexander Yucas, author of Tracks
ABOUT THE AUTHOR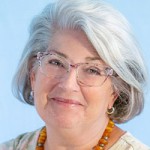 Elizabeth Robin retired to Hilton Head Island after a 33-year teaching career to write. To My Dreamcatcher, Robin's first full-length collection, begins with a bird's journey and winds through encounters with ghosts and dreamcatchers, trees and rushing falls, to a spiritual place inside a painting, the moon, a national park. As she travels through her past in the title poem, "To My Dreamcatcher," an elegy to her late husband, she moves from margins to the page's middle, and finds a comfortable place in which to tell her story.
She also has two chapbooks through Finishing Line Press, Where Green Meets Blue (2018) and Silk Purses and Lemonade (2017). In 2021 Robin won the Carrie McCray Nickens Fellowship and the John Edward Johnson Prize. A poet that tells the stories of those pushed into the margins, her recent work appears in Poetry on the Comet, Catfish Stew, The Poetry Society of SC Yearbook, Ripples, Ukweli, Drunk Monkeys, The Broadkill Review, and Local Life Magazine. Robin emcees an open mic and partners with arts groups to bring literati to Hilton Head Island. www.elizabethrobin.com
About the Interviewer

Barry Dickson is a retired Madison Avenue creative director. His poetry and prose have appeared in a variety of journals, print and online, including North American Review, Haiku Journal, Pearl Literary Magazine, HazMat Literary Review and his favorite, asininepoetry.com. He's been a finalist for the Hearst Poetry Prize and received "Special Mention" in Pushcart Prize. His poetry collection, Maybe Today, was published by Cherry Grove Collections. He is currently shopping BARRY WHO? 33 Unforgettable Micro-Memoirs from Someone You Never Heard Of. He lives on Hilton Head Island. www.barry-dickson.com

This program and others like this would not be possible without your financial help for which, as always, Pat Conroy Literary Center gratefully thanks you.