Thursday July 21, 2022 – 6-7:00 PM EDT
Price: Free · Duration: 1 hr
Registration: Seating is limited; please call to reserve your spot: 843-379-7025.
Venue: Pat Conroy Literary Center | 601 Bladen St., Beaufort
Website: Facebook Event Page
Our nonprofit Pat Conroy Literary Center will host an evening with suspense novelist Kerry Peresta, author of The Rising (book 2 in the Olivia Callahan series), on Thursday, July 21, at 6:00 p.m. at the Conroy Center (601 Bladen St.).
This event is free and open to the public. Books will be available for sale and signing. Seating is limited; please call to reserve your spot: 843-379-7025.
About THE RISING
"In The Rising, Peresta's stunning writing and multi-layered depictions take readers into the heart of a woman struggling to reclaim her memories and her life. Hooked from the first page, I was right there with her, rooting for her every terrifying, twisty step of the way!" –Susan Crawford, Bestselling author of The Pocket Wife and The Other Widow
"Peresta's second thriller is as riveting and well-plotted as the first. Among the many pleasures in this taut and fast-paced novel is the protagonist herself. Because the reader gets to see Olivia Callahan from multiple perspectives, this intriguing and potentially unreliable character has a depth and complexity that transcends the genre. The multi-layered narrative spans several time periods in Olivia's fractured life, and all are rendered in clear and vivid prose. An evocative, moving, and satisfying read." –Lori Robbins, Author of On Pointe Mystery Series, Silver Falchion Winner for Lesson Plan for Murder
After an assault that landed her in a hospital as a Jane Doe two years earlier, Olivia Callahan has regained her speech, movement, and much of the memory she lost due to a traumatic brain injury. The media hype about the incident has faded away, and Olivia is ready to rebuild her life, but her therapist insists she must continue to look back in order to move forward. The only person that can help her recall specifics is her abusive ex-husband, Monty, who is in prison for murder. The thought of talking to Monty makes her skin crawl, but for her daughters' sake and her own sanity, she must learn more about who she was before the attack.
Just as the pieces of her life start falling into place, she stumbles across the still-warm body of an old friend who has been gruesomely murdered. Her dream of pursuing a peaceful existence is shattered when she learns the killer left evidence behind to implicate her in the murder. The only person that would want to sabotage her is Monty—but he's in prison! Something sinister is going on, and Olivia is desperate to uncover the truth before another senseless murder is committed.
ABOUT THE AUTHOR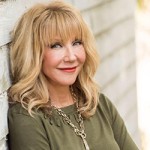 Kerry Peresta is the author of three books, including THE HUNTING (2013), THE DEADENING (2021), and THE RISING (2022). She spent thirty years in advertising as an account manager, creative director, copywriter, and editor. She began writing full-time in 2009 as a humor columnist for a daily newspaper, and in 2012, she moved to the Baltimore area and became chapter president of the Maryland Writer's Association.
Currently, Kerry is a member of Hilton Head Island Writers Network, the Sisters in Crime organization, South Carolina Writers Association, and a guest instructor for the Pat Conroy Literary Center. Locally, she has been published in Local Life Magazine, Island Events Travel Guide, and Lady Lowcountry Magazine. Kerry and her husband Jim have lived in Hilton Head since 2015. She has an ever-expanding flock of grandkids and two annoying cats. www.kerryperesta.net.

This program and others like this would not be possible without your financial help for which, as always, Pat Conroy Literary Center gratefully thanks you.