Tuesday September 28, 2021 – 6-7 PM EDT
Price: Free · Duration: 1 hr
Location: Pat Conroy Literary Center | 601 Bladen Street, Beaufort, SC
This is a free in-person event with limited seating. To reserve your spot, please call 843-379-7025 by September 21. Books will be available for sale and signing.
Website: Facebook Event Page
The Pat Conroy Literary Center will host an in-person visit with debut novelist Gervais Hagerty, author In Polite Company, on September 28, at 6:00 p.m. Gervais will be introduced by Cassandra King Conroy, best-selling author and honorary chair of the nonprofit Conroy Center.
ABOUT THE NOVEL
"Here is the captivating story of a contemporary young woman navigating the expectations of family, the traditions of Charleston's elite, and the fierce pull of her own heart… This is a beautiful debut novel."–Sue Monk Kidd
"Peek behind the veil of Charleston's cobbled streets, Southern charm and pedigreed society. In Polite Company offers a nuanced look at birth and death, privilege and discrimination at odds between generations. Gervais Hagerty is an author to watch!"–Mary Alice Monroe
Tourists think they see the real Charleston, but Simons Smythe knows there's more to her hometown than sweet tea and Southern hospitality. Behind the walled gardens, inside the fabled historic homes, live Charleston's elite. Simons was born into this powerful aristocracy that has quietly ruled the city for centuries.
Simons' family has a banner year ahead; Her older sister will give birth to her second child, and her younger sister will make her debut—a series of cocktail parties and balls to introduce her to society. And in one year, Simons plans to marry Trip. She hopes that's enough time to fall back in love.
Simons produces the news at a local TV station, a job that increasingly tests her loyalty to her family and friends. On her days off, Simons surfs the waves of Folly Beach, crabs the salty rivers of Edisto Island, and follows her wayward heart to King Street bars. The one touchstone in this confusing time is her elegant and secretive grandmother, Laudie, who—repeatedly and mysteriously—urges Simons to "be brave".
In this sparkling novel, Simons unlocks riddles from the past, flirts with a new future, and discovers that some rules are made to be broken.
ABOUT THE AUTHOR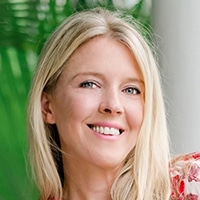 Gervais Hagerty grew up in Charleston, South Carolina. She earned her B.A. in psychology from Vanderbilt University. After a post-college stint in Southern California, she returned to the east coast, where she worked as a news reporter and producer for both radio and television broadcasts. In 2013, she earned her M.B.A. from The Citadel, and soon after became a professor, where she taught Leadership Communications.
As the director of Patricia McArver Public Speaking Lab, she coached students, faculty, and staff to become effective speakers. She also advised the college's public speaking club. She is a board member of The Charleston Council for International Visitors and serves on Charleston's Bicycle and Pedestrian Advisory Committee. She lives in Charleston with her husband and daughters. https://gervaishagerty.com

This program and others like this would not be possible without your financial help for which, as always, Pat Conroy Literary Center gratefully thanks you.