Event by Pat Conroy Literary Center
Online: patconroyliterarycenter.eventbrite.com
Wednesday September 29, 2021; 6:00-8:00 p.m. on Zoom.
$45
Limited to 20 participants
Many writers create settings that are as integral to their work as the story on the page. When rendered well, these places function as active characters. Think of William Faulkner's Yoknapatawpha County, Flannery O'Connor's rural southern landscapes, Shirley Jackson's cursed villages, Pat Conroy's Carolina Lowcountry, or F. Scott Fitzgerald's West Egg. Whether realistic or fantastic, a great setting serves as more than a backdrop to the story. We'll look at examples and explore strategies to incorporate descriptions and details that will bring your fictional world to life.
Learn more and register at https://patconroyliterarycenter.eventbrite.com
This workshop will be held as an online video conference call through Zoom. Details for joining the video call will be provided to all participating writers after registering.
Website: Facebook Event Page
About our instructor: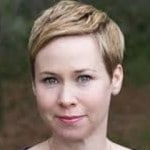 Tiffany Quay Tyson is an award-winning novelist, humor writer, and teacher. Her novel The Past is Never was the recipient of the Willie Morris Award for Southern Fiction, the Janet Heidinger Kafka Prize, the Mississippi Institute of Arts and Letters Award for Fiction, and the Mississippi Author Award. Her debut novel, Three Rivers, was a finalist for the Colorado Book Award and the Mississippi Institute of Arts and Letters Award for Fiction. Humor pieces have appeared in The Rumpus "Funny Women" column, The Belladonna Comedy, The Establishment, Slackjaw, and more. She currently lives and works in Denver, Colorado, where she serves on the faculty at Lighthouse Writers Workshop. She is a native of Jackson, Mississippi. www.tiffanyquaytyson.com

This program and others like this would not be possible without your financial help for which, as always, Pat Conroy Literary Center gratefully thanks you.