The journeys of African American women are found in literature of all kinds, fiction and nonfiction, songs and plays, written poetry and spoken word. Spirituality is an integral part in telling our stories along those journeys. As African American women find their own voices, the stories they share also serve to foster spiritual wholeness.
Presented by Dr. Stephanie Y. Mitchem (USC), this talk will explore the ways African American women create communal meaning and personal identities while naming their concepts of faith and salvation. From this perspective, Dr. Mitchem will consider the work of several African American women writers, including—but not limited to—Alice Walker, Billie Holliday, Iyanla Vanzant, and Toni Morrison.
Free and open to the public, this program is sponsored by South Carolina Humanities, a not-for-profit organization; inspiring, engaging and enriching South Carolinians with programs on literature, history, culture and heritage.
This event will be held at historic Grace Chapel AME Church, 502 Charles Street, in Beaufort, South Carolina. Many thanks to Grace Chapel for sharing this beautiful sanctuary with us for this Pat Conroy Literary Center program.
Website: Facebook Event Page
About our Presenter: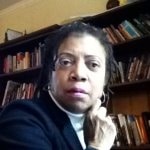 University of South Carolina professor Stephanie Y. Mitchem holds a joint appointment with the Women's and Gender Studies Program and the Department of Religious Studies at USC in Columbia. Mitchem earned her Ph.D. from Northwestern University and focuses her research on exploring the rich religious contexts and meanings of African American women and men. She has authored numerous articles in addition to three books: African American Women Tapping Power (Wipf and Stock, 2010 reprint), African American Folk Healing (New York University Press, 2007), and Name It and Claim It: Prosperity Preaching and the Black Church (Pilgrim Press, 2007). Mitchem is also coeditor with Emilie M. Townes of Faith, Health, and Healing Among African Americans (Praeger, 2008).