The nonprofit Pat Conroy Literary Center will host the 5th annual Lowcountry Book Club Convention as a series of live and virtual events held from Tuesday, September 21, through Saturday, September 25. This year's presenting authors include New York Times bestsellers Tamara Winfrey Harris (Dear Black Girl) and Jason Mott (Hell of a Book), award-winning author and editor Lauren Marino (Bookish Broads) and the Between Friends Book Club (Novel Women), in addition to a pantheon of book club and book forum leaders.
Ideal for book club members and those interested in joining or learning more about book clubs, the Lowcountry Book Club Convention is presented in partnership with NeverMore Books and the Technical College of the Lowcountry, and made possible by the generous support of the Pulpwood Queens Books Club, the largest book club in the U.S. The Lowcountry Book Club Convention will be hosted by the Conroy Center's Jonathan Haupt and Holland Perryman, and books by presenting authors will be available through NeverMore Books.
Registration for ticketed events will open in August through the Conroy Center's Eventbrite page: Eventbrite
Website: Facebook Event Page

SCHEDULE OF EVENTS
Tuesday, September 21
7:00 p.m. EDT Write Review Interview with the Conroy Center's Holland Perryman and Jonathan Haupt, in conversation with Annie McDonnell, founder of the Write Review (Live on Facebook at www.facebook.com/Thewritereview) VIRTUAL. FREE.
Wednesday, September 22
7:00 p.m. EDT Author Interview with Lauren Marino, author of Bookish Broads: Women Who Wrote Themselves into History, in conversation with Jonathan Haupt, on the Live from the Pat Conroy Literary Center podcast on the Authors on the Air Global Radio Network  PODCAST. FREE.
Thursday, September 23
6:00 p.m. EDT Author Visit with Jason Mott, New York Times bestselling author of Hell of a Book, in conversation with booksellers Lorrie and Dave Anderson, at NeverMore Books (910 Port Republic St, Beaufort) IN-PERSON. FREE.
Friday, September 24
6:00 p.m. EDT Virtual Happy Hour Panel Discussion with online book club leaders: Susie McMahon (Luxurious Journeys), Susan Peterson (Sue's Reading Neighborhood), Mandy Haynes (Pulpwood Queens), Annie McDonnell (World of the Write Review), Suzanne W. Leopold (Suzy Approved Book Tours), and Tina Hogan Grant (Read More Books), live on the Pat Conroy Literary Center's Facebook: www.facebook.com/patconroyliterarycenter. VIRTUAL. FREE.
Saturday, September 25
($12 registration fee for access to all presentations; optional catered lunch price TBD)
10:00-11:00 a.m. Book Club Discussion of Pat Conroy's A Lowcountry Heart led by the Beaufort Chapter of the Pulpwood Queens Book Club, at the Technical College of the Lowcountry (bldg. 12 auditorium) IN-PERSON. TICKETED.
11:30-12:30 p.m. Author Visit with Tamara Winfrey Harris, New York Times bestselling author of Dear Black Girl, in conversation with Bluffton Book Festival founder Rockelle Henderson—and featuring members of the Beaufort High School Diversity Awareness Youth Literacy Organization (DAYLO). (Author Tamara Winfrey-Harris will be presenting remotely, live-streamed at the Technical College of the Lowcountry; interviewer Rockelle Henderson will be in person at TCL.) HYBRID. TICKETED.
12:30-1:45 p.m. Lunch Break (Optional gourmet box lunches catered by Debbi Covington at the Technical College of the Lowcountry.) IN-PERSON. TICKETED.
2:00-3:00 p.m. Author Visit with Lauren Marino, award-winning author of Bookish Broads: Women Who Wrote Themselves into History, in conversation with the Conroy Center's Holland Perryman and Jonathan Haupt, at the Technical College of the Lowcountry (bldg. 12 auditorium) IN-PERSON. TICKETED.
3:30-4:30 p.m. Author Visit with the Between Friends Book Club, authors of the book club-inspired novel Novel Women (Authors will present remotely, live-streamed at the Technical College of the Lowcountry.) HYBRID. TICKETED.
Books by the presenters will be available through the Beaufort-based independent bookstore NeverMore Books (www.nevermorebooks.com).
ABOUT OUR PRESENTING AUTHORS
ABOUT DEAR BLACK GIRL and TAMARA WINFREY HARRIS

"A collection of letters written by Black women to encourage, educate, and uplift Black girls…. With chapters dedicated to 'Black Girl Magic,' family, friendship, mental health, and romantic relationships, the author seeks to rectify the devaluing of Black girls by connecting them with Black women through sage advice focused on meaningful topics. With an eye toward educating and healing, this collection of letters is reinforced by vocabulary words and history lessons necessary for any Black girl to know. It is also a self-affirming workbook prompting readers to supplement the letters and lessons with love letters to themselves. Winfrey Harris highlights the spectrum of Blackness and the Black experience, writing with necessary candor throughout. Beautifully written, the letters often feel like a collection of essays and poems…. A valuable combination of encouragement, empowerment, and instruction."—Kirkus Reviews (Starred Review)
Tamara Winfrey Harris is also the author of The Sisters Are Alright, which won several awards, including the Harlem Book Fair's Phillis Wheatley Award. Her work also appears in the books The Burden: African Americans and the Enduring Impact of Slavery and The Lemonade Reader: Beyoncé, Black Feminism and Spirituality, as well as in publications such as the New York Times, Cosmopolitan, New York Magazine, Ebony, the American Prospect, and Ms. magazine. She is also vice president of community leadership and effective philanthropy at the Central Indiana Community Foundation. www.tamarawinfreyharris.com
ABOUT HELL OF A BOOK and JASON MOTT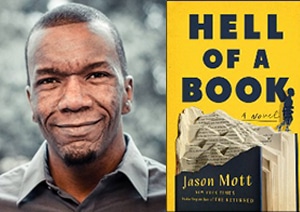 "Hell of a Book is a masterwork of balance, as Mott navigates the two narratives and their delicate tonal distinctions. A surrealist feast of imagination that's brimming with very real horrors, frustrations and sorrows, it can break your heart and make you laugh out loud at the same time, often on the same page. This is an achievement of American fiction that rises to meet this particular moment with charm, wisdom and truth."—BookPage (starred review)
Author of Hell of a Book, Jason Mott has published three previous novels. His first novel, The Returned, was a New York Times bestseller and was turned into a TV series that ran for two seasons. He has a BFA in Fiction and an MFA in Poetry, both from the University of North Carolina at Wilmington. His poetry and fiction have appeared in various literary journals. www.jasonmottauthor.com
ABOUT BOOKISH BROADS and LAUREN MARINO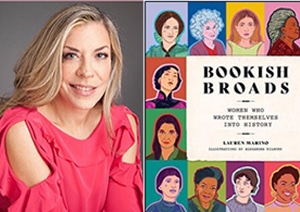 "In telling the stories of this pantheon of influential women, Lauren Marino empowers burgeoning writers to follow their own creative yearnings and calls upon readers to honor those who have come before us. Each of these life stories is different, affirming that writers and artists can come from everywhere…. Bookish Broads illuminates the transformative legacy of women writers and invites us to join a story still unfolding."–Charleston Post and Courier
Lauren Marino is a writer, editor and publishing executive with extensive experience working with major publishers, literary agents and authors. She is currently executive editor at Hachette Books, where she acquires and edits nonfiction across categories. Prior to that she was Vice President, Editorial Director of Gotham Books where she was the founding editor in 2001, acquiring, editing and publishing multiple bestsellers in a variety of non-fiction categories. Lauren is also the author of What Would Dolly Do? and Jackie and Cassini. www.laurenmarinobooks.com
ABOUT NOVEL WOMEN and the BETWEEN FRIENDS BOOK CLUB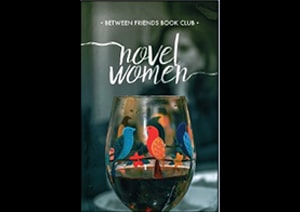 Energized by changes in careers and romances, the ladies of the Novel Women book club transition from their tumultuous summer into autumn. Free from societal expectations they soon discover that this sage stage of life doesn't come with instructions. Sandwiched between their parents and children they look to each other to help navigate this confusing period. The six women buoy each other up to ride out these storms with an abundance of wisdom, resilience, strength, and love. After all, book club is so much more than just reading.
Novel Women is written by the real-life members of the Between Friends Books Club, which was founded in 2004: Kim Sullivan Harwanjo (a freelance writer who earned her midlife degree in journalism from Rutgers), Denise Panyik-Dale (a freelance photographer and the director of communications and marketing for a small liberal arts college in New Jersey), Fran Furtado (a pharmaceutical representative), Jeanne Ann (a corporate insurance representative), and Patricia Vrana (a realtor, office administrator and accounting department head). www.betweenfriendsbookclub.com

This program and others like this would not be possible without your financial help for which, as always, Pat Conroy Literary Center gratefully thanks you.