Although beloved writer Pat Conroy (1945-2016) served as a classroom educator for little more than three years, he remained a teacher and mentor to his fellow writers throughout his lifetime. In this one-hour presentation, see Conroy in action as a teacher through representative remembrances of him excerpted from essays by the 67 contributors to the anthology Our Prince of Scribes: Writers Remember Pat Conroy.
Join Pat Conroy Literary Center executive director and volume co-editor Jonathan Haupt for a behind-the-book discussion of Our Prince of Scribes at the Calhoun County Library. A book signing will follow the presentation; all sales of Our Prince of Scribes benefit the educational mission of the nonprofit Conroy Center.
Praise for "OUR PRINCE OF SCRIBES"
"His wound may have been geography, but his legacy was generosity. That's the takeaway from this new collection of essays honoring the late Pat Conroy… A fitting tribute to a unique, significant writer and man."—Kirkus Reviews

"A testament to his mentorship and passion for educating others, the book includes essays from more than sixty writers, including Rick Bragg, Nikky Finney, Mary Alice Monroe, Ron Rash, and Sallie Ann Robinson, one of Conroy's former students on Daufuskie Island. It's a moving tribute to the legacy of one of the South's brightest lights."–Garden & Gun's Talk of the South
Website: Facebook Event Page
About our presenter: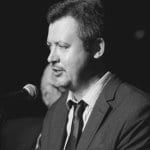 Jonathan Haupt is the executive director of the Pat Conroy Literary Center, the founding director of the annual Pat Conroy Literary Festival, and the former director of the University of South Carolina Press. He serves on the boards of the South Carolina Academy of Authors and the Friends of South Carolina Libraries and on the advisory board of the South Carolina Humanities and the affiliates steering committee of the American Writers Museum. Haupt's book reviews and author interviews have appeared in the Charleston Post and Courier; Lowcountry Weekly; Fall Lines; Shrimp, Collards & Grits magazine; and the Conroy Center's Porch Talk blog.

This program and others like this would not be possible without your financial help for which, as always, Pat Conroy Literary Center gratefully thanks you.