Our monthly virtual Open Mic Night is hosted by Brooke McKinney and presented in partnership between the Pat Conroy Literary Center and the South Carolina Writers Association. Our featured writer for May is Rick Campbell. Join us live on the Conroy Center's Facebook page for readings by a pantheon of participating writers from in and beyond our South Carolina lowcountry.
Online with Facebook Live
Thursday, May 13, 2021 at 6 PM – 7:30 PM EDT
Price: Free · Duration: 1 hr 30 min
Interested in reading as part of Open Mic? Contact host Brooke McKinney at brooke@patconroyliterarycenter.org
We want to build our community of writers and an appreciation for the art and talent of new, emerging, and long-time writers. Thank you for supporting this partnership!
About our featured writer: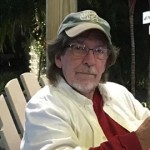 Rick Campbell is a poet and essayist living on Alligator Point, Florida. His most recent collection of poems is Provenance (Blue Horse Press.) He's published six other poetry books: Gunshot, Peacock, Dog; The History of Steel; Dixmont; Setting the World in Order; The Traveler's Companion; and A Day's Work. His poems and essays have appeared many journals, including the Georgia Review, Fourth River, Kestrel, and Prairie Schooner. He's won a Pushcart Prize and a NEA Fellowship in Poetry. He served as the Director of Anhinga Press and the Florida Literary Arts Coalition. He teaches in the Sierra Nevada University MFA Program.

This program and others like this would not be possible without your financial help for which, as always, Pat Conroy Literary Center gratefully thanks you.