The Beaufort-based Luxe Lowcountry Travel is hosting its inaugural Lowcountry Literary and Leisure Getaway on March 9-12, as an opportunity for dozens of literary pilgrims to experience Pat Conroy's beloved lowcountry through an inviting and immersive itinerary of special events and tours. Three of those special events will also be open to the public, presented as fundraisers for the nonprofit Pat Conroy Literary Center.
Luxe Lowcountry Travel owner and virtual book club host Susie L. McMahon envisioned the getaway weekend and its corresponding public events as a love letter to the literary lowcountry:
The Lowcountry Literary and Leisure Getaway is a passion project for me combining my love of reading and slow travel. Highlighting the writing of Pat Conroy along with authors featured as part of the Susie L. McMahon Virtual Book Club is the focus. And having the gem of Beaufort's literary life, the Pat Conroy Literary Center, as the beneficiary of this inaugural venture is at the forefront of this homage and a way of giving back to the Center for all it does in support of readers and writers from near and far alike.
SCHEDULE OF PUBLIC SPECIAL EVENTS, MARCH 9 & 12
Wednesday, March 9, 5:00-7:00 p.m. | Meet & Greet Authors Reception, Sponsored by Luxe Lowcountry Travel
Beaufort Inn's Craven Courtyard, 809 Port Republic St., $45/person
Saturday, March 12, 2:00-3:30 p.m. | Friends of Pat Conroy Panel Discussion, Sponsored by the Beaufort Inn
Beaufort Inn's Old Bay Marketplace Loft, 917 Bay St., second floor, FREE
Saturday, March 12, 6:00-8:00 p.m. | Lowcountry Boil Dinner, with a special presentation by the Conroy Center executive director Jonathan Haupt and Beaufort High School interns Holland Perryman, Alisha Arora, and Millie Bennett
Celadon Clubhouse, 61 Celadon Drive, Beaufort, $55/person
FRIENDS OF PAT CONROY PANEL DISCUSSION
Free and open to the public, this panel discussion will feature a lively exchange of stories shared by Pat Conroy's widow and fellow author Cassandra King Conroy, his literary agent Marly Rusoff, his Citadel classmates Scott Graber and John Warley, and his Beaufort High School student Valerie Sayers. Light refreshments will be provided by Mary Martha Green, author of The Cheese Biscuit Queen Tells All. The conversation will be moderated by Donna Keel Armer, author of Solo in Salento. Books by Pat Conroy and the presenting authors will be available for sale and signing. Books sales and donations help support the nonprofit Pat Conroy Literary Center.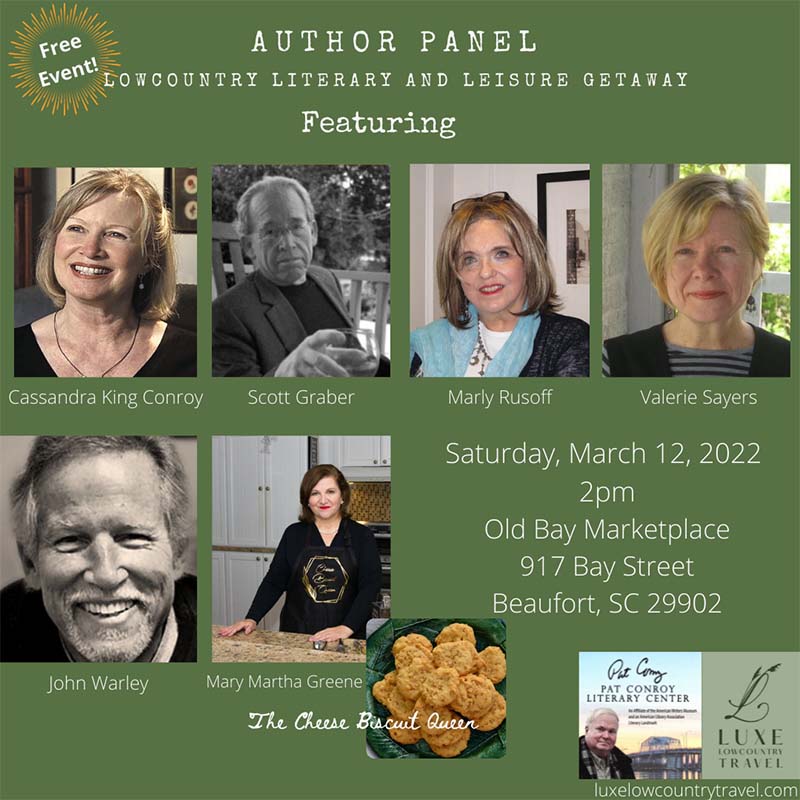 This program and others like this would not be possible without your financial help for which, as always, Pat Conroy Literary Center gratefully thanks you.