"There are no ideas in the South, just barbecue."–Pat Conroy
The Anchorage 1770 Inn and the Pat Conroy Literary Center will host award-winning journalist and food writer Jim Auchmutey, author of Smokelore: A Short History of Barbecue in America, on Sunday, July 7. Join us from 4:00 to 7:00 p.m. on the first floor of the Anchorage 1770 (1103 Bay St., Beaufort, SC) for a discussion, tasting, and book signing.
Learn and taste samples of the "great American food" with Jim, as he discusses the mystique of barbecue sauces. It's a spicy story that involves noted Americans from George Washington and Abraham Lincoln to Louis Armstrong, Elvis Presley, Martin Luther King Jr., and Barack Obama. Jim will walk you through the delicious and contentious history of barbecue in America from the ox roast that celebrated the groundbreaking for the U.S. Capitol building to the first barbecue launched into space almost 200 years later.
Registration is $100/person and includes a copy of Jim's book, BBQ tastings, a signature drink, and a Pat Conroy Literary Center apron. Seating is limited.
Website: Facebook Event Page
About the presenter: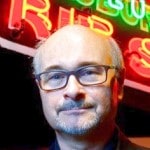 Jim Auchmutey spent 29 years at the Atlanta Journal Constitution as a reporter and editor, twice winning the Cox Newspaper chain's Writer of the Year award. The James Beard Foundation, the Association of Food Journalists, and the Sigma Delta Chi journalism society have honored his food writing. He is coauthor of The Ultimate Barbecue Sauce Cookbook and author of The Class of '65: A Student, a Divided Town, and the Long Road to Forgiveness. He lives in Georgia and descends from a long line of pitmasters.

This program and others like this would not be possible without your financial help for which, as always, Pat Conroy Literary Center gratefully thanks you.