Our monthly virtual Open Mic Night is presented on Zoom in partnership between the Pat Conroy Literary Center and the South Carolina Writers Association. Our featured writer for August is John W. MacIlroy, author of the short story collection Whatever Happens, Probably Will. Join us live on the Conroy Center's Facebook page for readings by a pantheon of participating writers from in and beyond our South Carolina lowcountry.
Online with Facebook Live
Thursday, August 11, 2022 at 6 PM – 7:30 PM EDT
Price: Free · Duration: 1 hr 30 min
Interested in reading as part of Open Mic? Let us know at contact@patconroyliterarycenter.org
We want to build our community of writers and an appreciation for the art and talent of new, emerging, and long-time writers. Thank you for supporting this partnership!
About our featured writer: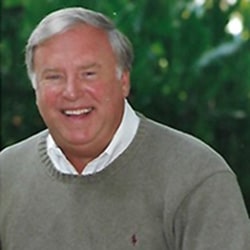 John W. MacIlroy is the author of Whatever Happens Probably Will.
About the book from Amazon.com:
In this debut collection of short stories, John W. MacIlroy delights in teasing the moment when everything changes, when the reader suddenly and completely knows the heart of each character and the fullness of the human experience. That slip may be gentle, air-brushed with a sly and lighthearted wink in stories like "The Closer," "Customer Service," and "McAllister's Asterisk." Or it may creep in after a slow roll, then slash across the final pages in bold strokes in stories like the award-winning "Duke's" and "Three Buses, Waiting." And in others, like "The Painting" and "The Man Inside," things unseen – whispered in the shadows and along the margins – suddenly explode in surprising ways, burrowing deep into the reader's soul. In the tradition of writers like Richard Ford, Christopher Tilghman and T.D. Johnston, these stories find in place an essential element of a good story. We find ourselves in a forgotten New England factory town; in a midwestern colonial along a street lined with tall oaks, middling ambitions and short mailboxes; and in a tired cemetery along the Mississippi where the hushed voices of the buried dance among the live oaks. And in the way of the Southern writer, these, and the other full-bodied stories in the collection, embrace the harsh gravitational pull of the past. And where they land – well, as the writer Jayne Adams warns, "Buckle up. You're in for a ride . . ."

This program and others like this would not be possible without your financial help for which, as always, Pat Conroy Literary Center gratefully thanks you.