Saturday April 16, 2022 – 5-6:00 PM EDT
Price: Free · Duration: 1 hr
Location: NeverMore Books (910 Port Republic Street)
NeverMore Books and the nonprofit Pat Conroy Literary Center will host an evening with novelist Kimberly Brock, author of The Lost Book of Eleanor Dare–in conversation with Holland Perryman and Jonathan Haupt.
Free and open to public, this in-person event will be held at NeverMore Books (910 Port Republic Street) with books available for sale and signing. Seating is limited; please call the store to reserve your spot: 843-812-9460.
The author conversation will also be live-streamed on the Conroy Center Facebook page.
Website: Facebook Event Page
ABOUT THE LOST BOOK OF ELEANOR DARE
"The fate of the world is often driven by the curiosity of a girl."
What happened to the Lost Colony of Roanoke remains a mystery, but the women who descended from Eleanor Dare have long known the truth lies in what she left behind: a message carved onto a large stone and the contents of her treasured Commonplace Book. Brought from England on Eleanor's fateful voyage to the New World, her book was passed down through the fifteen generations of daughters who followed as they came of age. Thirteen-year-old Alice had been next in line to receive it, but her mother's tragic death fractured the unbroken legacy and the Dare Stone and the shadowy history recorded in the book faded into memory. Or so Alice hoped.
In the waning days of World War Two, Alice is a young widow and a mother herself when she is unexpectedly presented with her birthright: the deed to Evertell, her abandoned family home and the history she thought forgotten. Determined to sell the property and step into a future free of the past, Alice returns to Savannah with her own thirteen-year-old daughter, Penn, in tow. But when Penn's curiosity over the lineage she never knew begins to unveil secrets from beneath every stone and bone and shell of the old house and Eleanor's book is finally found, Alice is forced to reckon with the sacrifices made for love and the realities of their true inheritance as daughters of Eleanor Dare.
In this sweeping tale from award-winning author Kimberly Brock, the answers to a real-life mystery may be found in the pages of a story that was always waiting to be written.
ABOUT THE AUTHOR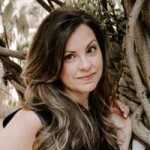 Kimberly Brock is the award-winning author of The Lost Book of Eleanor Dare and The River Witch. Her debut was an Amazon bestseller featured by both national and international book clubs and included in multiple reading lists. Praised by RT Reviews and Huffington Post as a "solemn journey of redemption, enlightenment and love," and evocative of "the stories of Flannery O'Connor and Carson McCullers," Kimberly's debut novel was honored with the prestigious Georgia Author of the Year Award in 2013, by the Georgia Writer's Association.
A former actor and special needs educator, Kimberly received her bachelor's degree from the University of West Georgia in 1996. In 2014, Kimberly founded Tinderbox Writer's Workshop, a transformative creative experience for women in the arts. Kimberly has served as a guest lecturer for many regional and national groups, including The Women's Fiction Writer's annual conference and The Pat Conroy Literary Center. She lives near Atlanta with her husband and three children. https://kimberlybrockbooks.com
ABOUT OUR HOSTS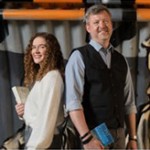 The first intern of the nonprofit Pat Conroy Literary Center and of the Friends of South Carolina Libraries, Beaufort High School senior and student body president Holland Perryman is an award-winning young writer whose work has been featured in the Charleston Post and Courier, Lowcountry Weekly, Southern Review of Books, and the anthologies River of Words and Stretching Skyward.
Jonathan Haupt is the executive director of the Pat Conroy Literary Center, the former director of the University of South Carolina Press, and coeditor of the award-winning anthology Our Prince of Scribes: Writers Remember Pat Conroy.

This program and others like this would not be possible without your financial help for which, as always, Pat Conroy Literary Center gratefully thanks you.