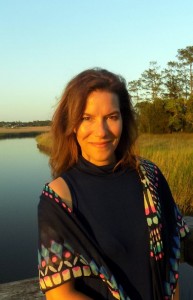 "We cannot read a book without importing ourselves as characters. This is one of the marvels of fiction. We get to rehearse things on the written page. We get to examine our own motives and lives through books."
A Hilton Head Island, South Carolina, native, writer and artist Nicole Seitz is the author of six novels, including The Spirit of Sweetgrass, The Inheritance of Beauty, and Beyond Molasses Creek. Nicole's fiction has been honored by Library Journal, Romantic Times, the Southern Independent Booksellers Alliance, the Christian Booksellers Association, the Pulpwood Queens Book Club, and Books-a-Million. Following the historic South Carolina flood of 2015, Nicole created and edited the fundraising anthology When You Pass through Waters: Words of Hope and Healing from Your Favorite Authors. Her seventh novel, The Cage-maker, a masterful southern gothic tale which she also illustrated, is being published in August by Story River Books, the original southern fiction imprint founded by Pat Conroy. She lives in the Charleston area with her husband, Brian, and their two children. Nicole shared with us some insights into her writing life and the heretofore unknown mysterious family history that became the impetus for The Cage-maker.
 Jonathan Haupt: Nicole, thanks for joining us on the Conroy Center's virtual Porch. Let's dive in and talk about your new book. The idea for The Cage-maker began while you were researching your own family history. Tell us what you discovered and how it inspired aspects of your novel.
Nicole Seitz: I first discovered that my paternal great-grandmother from New Orleans shared my birthday, which led me to look deeper into her life and that side of my family. When I found that her brother married a young heiress who died a year after eloping with him, I was intrigued. How did she die? And why, after her death, was her father coming after her money? Researching Louisiana Supreme Court cases led me to learn that her younger sister also married at age 14, and a year later she was dead too. Once more, their father came after the money. I began to care about these young girls and to feel the pull to unearth these family secrets. At some point, I was hooked. This is a story I wanted to write for several years before I actually committed to it.
JH: While you've set some of your earlier novels in your native lowcountry, The Cage-maker takes place in New Orleans at the dawn of the 20th century, a setting ripe with possibilities for southern gothic fiction. What's the appeal for you as a writer in delving into literary landscapes beyond your home?
NS: Although I've written much about the lowcountry in my novels, more exotic settings are not new to me. I've written about Vietnam and Nepal, even a fictional heaven, and I truly enjoy bringing to life places and times that are hard to reach. As a reader, I love to be transported to other places and times, and as a writer, I imagine my readers do too.
"[Nicole] artfully weaves a rich, complex narrative that beautifully blends the past and present while exploring the age-old themes of suffering, sin, and redemption…. I'm proud to add The Cage-maker to my collection and will display it next to its kinfolk of the gothic tradition…."—Cassandra King Conroy, from her foreword to The Cage-maker
JH: Your new historical novel brings together elements of a detective story, a ghost story, and a multi-generational family drama, all wrapped in a framework of modernity as the past resonates in the present-day. What have been your challenges and rewards as a writer in bringing all of these elements together?
NS: My novels often cross genres. I've written family dramas and historical mysteries, as well as a ghost story or two. I think it's important for a writer to remain true to the story she is writing and not the genre, necessarily. Genre can become a limitation, a box, and most of the stories that beg me to be told won't fit easily inside boxes. I simply wrote a dark story of the South—of which there are many!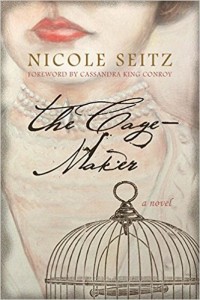 JH: The Cage-maker is written as an epistolary novel—unfolding through the discovery of found letters, journals, and articles. Dracula is another excellent classic example of this blending of found narratives. What does this approach bring to the story and how it's read?
NS: One of the hardest parts about writing this novel was figuring out how to write it. It had many starts and stops and even more do-overs. In the end, I decided the most enjoyable part for me was the act of discovery, of being a sleuth in this great mystery. I want my readers to experience that same sense of wonder as they dig deeper and deeper into the letters, files, and photos presented in this novel and ultimately come to their own conclusions. Dr. Le Monnier and François were the perfect voices to tell this story, and I truly loved writing them.
JH: Dr. René Le Monnier, your novel's protagonist, was a historical figure, and many of the characters, settings, and events in your novel have a basis in reality. What sense of responsibility do you feel to the real and documented past when incorporating it or otherwise borrowing from it in your fiction?
 NS: I want to write authentic historical characters as much as possible, though I don't have any issue with using truth as a launching pad for tall tales. In many instances, I have included complete articles as they appeared more than 100 years ago. Sometimes I change a name and other times I don't. What's important to me is the truth as I've found it—though I cannot get to the bottom of any historical mystery. There are always stones left unturned. This is where imagination comes in. Some historical characters I begin to care about as I write them. Others I begin to pray for. The work I do is fiction, through and through, but I feel a responsibility to the stories as I know them. The old adage that truth is stranger than fiction is accurate, and when I find historical details too wild to have ever been created in my mind, I try to keep them intact.
 JH: You're an artist as well as a writer, and you've painted the artwork for the covers of your previous novels. For The Cage-maker, you've painted the cover and drawn a number of sketches which illustrate the narrative. How does your work as a visual artist complement your work as a literary artist?
NS: I've always been enamored with the illustrative mysteries of Sherlock Holmes. These illustrations add a sense of historical truth and concreteness to Arthur Conan Doyle's work. When crafting The Cage-Maker for my readers, I wanted them to have the same feeling—that they are peering into someone's files and finding not only the written word but glimpses from yesteryear. I tried to hold to the authenticity of the characters and places, and I so enjoyed bringing this world to life visually. I spent several years researching and writing the novel, and when I felt I'd hit a wall, I found painting the characters helped me to overcome it and to refresh my approach. I generally either write or paint, one at a time, and often one leads directly to the other.
JH: What do you hope your readers take away from your new novel—the story, the artwork, the whole of it?
NS: The biggest thing I'd like my readers to take away from The Cage-maker is exactly what they bring with them to every story they read: themselves. We cannot read a book without importing ourselves as characters. This is one of the marvels of fiction. We get to rehearse things on the written page. We get to examine our own motives and lives through books. This story focuses on the deep, dark mysteries that lie within each of our families. Just as I have done in the writing of this book—examining my own family's dark places and choosing either to hold on to or let go of this inheritance—I hope my readers are inspired to ask questions about their pasts and search out their ancestral secrets to finally be free of them. We are often bound to repeat history unless we make a decision to know it, to study it, and ultimately, to choose a new path.
"… to the one and only, the beloved and late Pat Conroy, if I could tell you just one more time, 'Thank you for everything you've done,' I would. Eternal thanks."—Nicole Seitz, from the acknowledgements to The Cage-maker
Nicole Seitz will appear in three upcoming Pat Conroy Literary Center events–our Porch Talk Live panel at the AJC Decatur Book Festival on Saturday, September 2, at our annual Pat Conroy Literary Festival in Beaufort on Friday, October 20, and back in Beaufort again as our Visiting Writers Series guest author on Saturday, November 25. For for more information about all three of these appearances, please visit our Events page: www.patconroyliterarycenter.org/calendar-events. And to learn more about this multitalented author and artist, visit  Nicole's website at www.nicoleseitz.com.
About our interviewer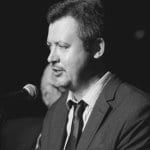 Jonathan Haupt is the executive director of the Pat Conroy Literary Center, the founding director of the annual Pat Conroy Literary Festival, and the former director of the University of South Carolina Press. He serves on the boards of the South Carolina Academy of Authors, Deckle Edge Literary Festival, and the Friends of South Carolina Libraries.