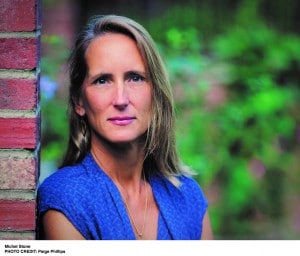 "My primary interest in writing my novels is to examine the power of familial love and family dynamics, and how those dynamics change under hardship. Love, struggle, commitment, sacrifice, pain, joy, parenthood and childhood are universal concepts."
Novelist Michel Stone is a graduate of Clemson University and a native South Carolinian who has published more than a dozen short stories and essays in various journals and magazines. She was the recipient of the 2011 South Carolina Fiction Award, and her 2012 debut novel, The Iguana Tree, published by Hub City Press in Spartanburg, South Carolina, received an IPPY Award and was named an Okra Pick (a booksellers' favorite) by the Southern Independent Booksellers Alliance. Her second novel, Border Child (recently published by Nan A. Talese), continues the heartwrenching journey of a young Mexican couple who are desperately seeking answers to the disappearance of their child during a border crossing.
As part of the Pat Conroy Literary Center's monthly Visiting Writers Series, Michel will appear in Beaufort, South Carolina, on Tuesday, June 20, in conversation with attorney, novelist, and Pat Conroy's Citadel classmate Scott Graber. Click here or see the flyer at the bottom of this post for event details.
Click here to read the opening chapters of Border Child. (Copyright (c) 2017 by Michel Stone. Excerpted by permission of Doubleday/Nan A. Talese, a division of Penguin Random House.)
This interview between Michel Stone and Nancy Powell originally appeared in Shelf Awareness and is reprinted here in Porch Talk with the kind permission of the publisher.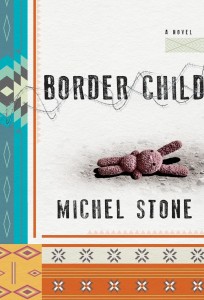 Nancy Powell: How did you become interested in the subject of Mexican immigrants crossing into el Norte for better opportunities?
Michel Stone: I grew up on Johns Island, a farming community in rural Charleston County, S.C. Throughout my childhood I'd see migrant Latino children in the tomato fields with their parents, and I suspected those children had traveled and seen far more than I ever would. They came from faraway lands and spoke a language I could not understand, but they'd vanish when the farming season ended. Until I was 13, the furthest I'd traveled was to visit my cousin in Alabama. The children in the fields intrigued me and I yearned to know their stories. How were we alike? How were our lives different? Did they go to school? What did they eat? What magnificent, mysterious, exotic stories they must have had!
NP: What about your personal experiences with Mexican immigrants–was there a specific person or persons that inspired you to write these stories?
MS: When I was a young mother, I had an encounter with a Mexican couple on a South Carolina farm. They confided in me that they'd crossed the border into the U.S. from Mexico without proper papers and that they'd handed over their infant to a paid smuggler who specialized in crossing with babies. They reunited with their baby son in Texas. Their story haunted me and was the catalyst for my ever-growing intrigue with the topic of border crossings, particularly from the humanities perspective. The hows and the whys gripped me. I have much less interest in the politics of the border. I've always been interested in the human story.
"Border Child does not disappoint. Michel Stone captures the rich textured voices of her characters on both sides of the border due to her boundless understanding of that most universal emotion–love. Unafraid to ask the hard questions, Border Child, explores complex family dynamics with great imagination, insight, and empathy."–Tayari Jones, author of Silver Sparrow
NP: Writer Tayari Jones wrote a blurb for Border Child: "It takes a village to raise a child, but it also takes a village to tell the heartbreaking story of a little girl lost." What are your thoughts on this?
MS: Tayari is a master at writing heartbreak and hope and at illuminating the complexities of family dynamics. I often talk about empathy, and I think that's what Tayari is talking about here. I recently read Desmond Tutu's "No Future Without Forgiveness," in which he expounds on the South African concept of Ubuntu, which means essentially that my humanity is inextricably bound to yours and that what dehumanizes me, dehumanizes you. That's what I try to convey in my fiction, and I think Tayari gets that.
NP: Did you intend to write a standalone novel with The Iguana Tree?
MS: I had no clue how the ending of The Iguana Tree would unsettle people and how often readers would ask if I intended to write a sequel. For the first year after the novel's publication, I would emphatically say no when asked that question and, indeed, I'd begun writing a novel with a completely new set of characters. Then I visited Hermiston, Ore., when that town read The Iguana Tree for their Community Read. Hermiston is a large agricultural community near the Columbia River, with a population that's about 35% Latino. At a panel discussion, I was deeply touched by that community's warm reception to my book. During the Q&A, a woman asked if I planned to write a follow-up novel to tell the rest of the story. I said yes and the room erupted in applause. The next morning the local paper had a story about my visit and announced that I'd be writing a follow-up novel. Well, I had to do it after that! I began making notes on my flight home. I don't call Border Child a sequel; it's a stand-alone novel. But readers of my first novel will recognize characters.
NP: The Iguana Tree had an almost frenetic desperation to it, whereas Border Child is more reflective. If you were to write a third novel focused on the lives of Hector and Lilia Santos, how would you envision it?
MS: A misconception of youth and inexperience is that we're invincible. Life's fickle journey eventually proves otherwise. Hector and Lilia had the inexperience and impetuousness of youth in The Iguana Tree. In Border Child, these characters have now weathered life-altering events. People become more reflective, more cautious and thoughtful after surviving trauma. A friend said to me, "Hector becomes a man in Border Child because he thinks increasingly about others before self." I suppose that's true. I have no plans to write a third book about these characters but if I did, I envision their lives mellowing, sweetening into a gentler existence. I owe them that!
NP: What are your thoughts on international adoption, which Border Child touches upon, and on the difficulties and pain these families face? 
MS: My primary interest in writing my novels is to examine the power of familial love and family dynamics, and how those dynamics change under hardship. Love, struggle, commitment, sacrifice, pain, joy, parenthood and childhood are universal concepts. A character's nationality, her skin tone, her story's setting won't change the definition of any of these words. Adopted children are children, and adoptive parents are parents. But the reality of international adoptions is fertile ground for fiction and a wonderful opportunity for a novelist to examine ways families of all stripes are alike, despite differences.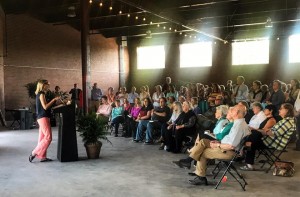 NP: How would you approach the topic of immigration, given the current political climate?
MS: Politicians are quick to throw out all or nothing answers, but life isn't like that. I read a great quote by Mother Teresa not long ago. She said, "If I look at the mass I will never act. If I look at the one, I will." I like to illuminate the one.
I'm writing my third novel now and it does involve this topic. It's set in Honduras with more of the frenetic urgency and desperation you referenced. I'm interested in the motivation of parents who allow their unaccompanied children to cross into the U.S. from Central America, particularly from Honduras, Guatemala and El Salvador. The gang violence in those countries is a tremendous influence in these families' decisions. Can you imagine being a parent there, barely able to afford beans for your pot, yet you have five or six children and you know when those children reach eight or nine years old, the gangs will begin to conscript them? This is the type of scenario that gets my creative juices flowing. I love exploring the human condition in my fiction.
About Shelf Awareness's interviewer:
Nancy Powell is a freelance writer and technical consultant.