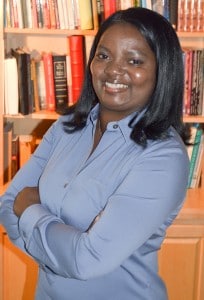 "Living in the lowcountry has given me a renewed purpose in life, and the festival grew out of that sense of direction…. I'm blessed to be able to offer a platform to help many more writers get to know readers and one another. It's also a chance for us to give back locally to the Literacy Center and nationally to the publishing industry via the Book Industry Charitable Foundation."
Rockelle Henderson is the president of Rock Inked, Inc., an author consulting, marketing, and literary management firm. She serves on the board of the Book Industry Charitable Foundation (Binc) and has led its communications and marketing committee for the past two years. Over a career that's spanned twenty years, Rockelle has held positions at Random House, Penguin, HarperCollins, and Disney/Hyperion. She's worked with authors such as Jacqueline Woodson, Karin Slaughter, Eriq La Salle, and Edward P. Jones, and on the marketing campaigns for books by Michael Crichton, Terry McMillan, Bill Gates, Stephen King, Jeffrey Toobin, and Louis V. Gerstner. In 2016, she launched the Bluffton Book Festival in Bluffton, South Carolina, a literary festival that brings together local and national literary talent to raise awareness and funds for two charities—the Literacy Center of Bluffton and the Binc Foundation.
The Pat Conroy Literary Center will partner with the Bluffton Book Festival in its second year to offer a free public program at the Bluffton Branch Library on Thursday, November 16, and a day of ticketed writers workshops on Friday, November 17. We invited Rockelle to the Porch to tell us more about her background in publishing, her coming to the lowcountry, and what we can expect from the 2nd annual Bluffton Book Festival this November 16–18.
Jonathan Haupt: Welcome to Porch Talk, Rockelle. Let's start at the beginning. What led you to a career in publishing?
Rockelle Henderson: I've held both marketing and editorial positions. I had worked for Sunset magazine in the ad sales department when I took an assistant position in the marketing department of Dutton Books. From my ad sales background, I'd learned that it was better to control the budget than ask for it. So I sought out a position as a brand marketer, and I was fortunate to find what I was looking for in the book publishing world.
JH: You've gotten to work with well-known and burgeoning writers, and you've gotten to meet so many of their readers. What have you loved most about working with writers and readers?
RH: What I've learned from working with all of these wonderful writers and readers is that there is always something more to learn. Through books, I have been to places I will never see in person, my eyes have been opened to different vantage points and different interpretations on the same theme—in books and in life. It's been an amazing journey.
JH: What's a lesson you've learned in the publishing business that you'd most like to share with beginning writers?
RH: I have learned that it is very important to have a good editor, someone who is on your side and who can serve the interested of both the reader and the writer. We all need a good advocate in our lives, someone to listen to us, but to challenge us as well. For a writer, a good editor can be that advocate, and finding the right writer-editor partnership is one of the keys to success in publishing.
JH: You've made a home for yourself here in the lowcountry. What first brought you here and what drew you into staying?
RH: My story is likely very similar to that of so many other people who have settled here in the lowcountry. A friend of mine introduced me to Hilton Head Island as a quick vacation destination before 2001. I fell in love with the beauty of this place. Living in the Northeast can be tough when most of the year is spent in the cold and in darkness. After September 11th, New York City changed and I could no longer see myself living and working in the big city. When the stress of working in publishing became too much, I began to visit the lowcountry more and more often. In 2005 our publishing team had accomplished in three years many of the goals we had set out to achieve as part of our five-year plan. As you can imagine, the goal-seeking took a toll on me. I was exhausted and, frankly, uninterested in what I saw as my future in publishing. I was not an editor, and the possibility of editing "the next great American novel" was not in my future. As a marketer, you must create marketing campaigns for whatever lands on your desk. Often times you don't have a choice. Looking ahead at what was to come just didn't appeal to me. So I decided to make a big move and reset my life in a new place. I've lived in the lowcountry since 2006 and I can't imagine being anywhere else now.
JH: You recently taught a sort of "publishing 101" workshop at our 2nd annual Pat Conroy Literary Festival. We had such positive feedback from your sold-out class—but what was that experience like for you?
RH: Teaching the publishing and marketing workshop at the Conroy Festival was an amazing experience, and I would like to thank you, Jonathan, for allowing me to share what I have learned. The workshop taught me that there are so many writers here in the lowcountry in need of guidance and direction to cross that threshold to their next steps in publishing. This is the third time I've led this workshop in the area and I am amazed each time at the range of writers the workshop attracts. There have been writers who were self-published, soon to be published, or published by well-established publishing companies in all three workshops, and they all have good, important questions about how best to connect to readers and build a career as writers. I look forward to getting to lead the workshop again.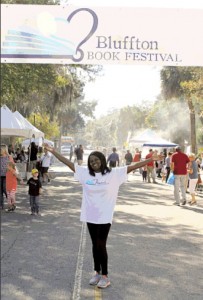 JH: Where did the idea for the Bluffton Book Festival come from?
RH: I wish I could tell you that I had developed an elaborate plan to establish a literary festival in my new hometown, but that would not be true. What is true is that living in the lowcountry has given me a renewed purpose in life, and the festival grew out of that sense of direction. Allow me to explain. In addition to organizing the Bluffton Book Festival, I own a marketing company where we get to market books, television shows, movies, and just about any form of content. In this capacity I also get to work one-on-one with writers at every level of their career. I enjoy helping people, but I can only help a few at a time with the marketing business. With the festival, I'm blessed to be able to offer a platform to help many more writers get to know readers and one another. It's also a chance for us to give back locally to the Literacy Center and nationally to the publishing industry via the Book Industry Charitable Foundation. The festival benefits both charities, and that spirit of community-minded generosity guides the whole event.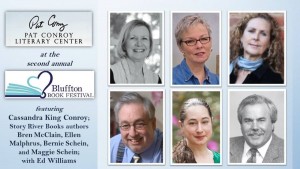 JH: The Bluffton Book Festival has grown significantly in its second year. What can we expect from this year's festival?
RH: This is year two of the festival and we are excited to see it expand to three days thanks to our partnership with the Pat Conroy Literary Center. Once the idea of the festival was developed, one of my goals was to bring readers and writers from Beaufort, Hilton Head, Savannah, and even Charleston to the festival. In order for that to happen, I knew we would need to increase the level of author participation. In our first year, we were encouraged when we had 28 authors participate in the festival. I'm grateful for each one of them. This year, the festival has grown to include more than 60 authors! To say I'm excited is an understatement.
There are an impressive group of New York Times best-selling writers joining us this year—including Mary Alice Monroe, Patti Callahan Henry, Mary Kay Andrews, Cassandra King Conroy, and CJ Lyons—as well as dozens of other local and visiting writers. We are also excited to have an expanded selection of books for children this year.
JH: As you mentioned, the festival is, among other things, a fundraiser for the Literacy Center of Bluffton and the Binc Foundation. Tell us a little bit about those nonprofits and your connection to them.
RH: Both organizations do such important work and it's been an honor to support them through the festival. When I first envisioned starting a book festival in Bluffton, Binc Foundation was onboard from the beginning. The Binc Foundation was once the foundation of Borders, the national bookstore chain that was headquartered in Ann Arbor, Michigan. When the chain closed, the foundation continued on as the Book Industry Charitable Foundation. The nonprofit is a safety net for the bookselling community. Any bookstore employee can apply for assistance if they have a need within the guidelines. For example, Binc provides financial support for those booksellers with domestic violence issues, medical bills, disaster relief needs, funeral services, and more. In the last few months, Binc has provided more than $100,000 in disaster relief to bookstore employees who were victims of the hurricanes and California fires. I am proud to be on the board of the Binc Foundation and to have the opportunity to give back to the bookstore communities.
For as long as I've worked in publishing I've had a desire to work with a literacy organization, a group that will help ensure there will always be readers and writers. For the festival, I also wanted to help a local organization. Bluffton's Literacy Center felt like the perfect organization. The Literacy Center of Bluffton is Beaufort County's only nonprofit adult and family literacy organization, serving more than 600 students a year at eight locations. They do important work in our community and they were a natural partner for our festival to support. I want to thank both nonprofits for allowing the Bluffton Book Festival to be affiliated with their organizations.
You can learn more about both of them at www.bincfoundation.org and http://theliteracycenter.org.
JH: How can writers and readers participate in the Bluffton Book Festival?
RH: Author registration for the outdoor festival on Saturday, November 18, is closed. We're excited to have all of our available spaces filled already by such a great group of writers and we look forward to greeting readers from 10:00 to 4:00 that Saturday on Old Town Bluffton's Calhoun Street. I also encourage writers to register for the workshops to be held on Friday, November 17, and led by instructors associated with the Pat Conroy Literary Center. And I would also suggest that writers attend our VIP event Friday night at Outback in Bluffton. That special ticketed event is an opportunity to learn from the pros through one-on-one time with New York Times' bestselling authors. Readers will enjoy meeting some of their favorite authors at the VIP event as well. It's going to be a very special night.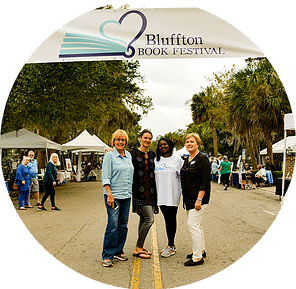 JH: It's time to plug the website. Where can folks go to learn more about the festival?
RH: You can learn more about the festival—including how to register for workshops and the VIP party—at www.blufftonbookfestival.com.
JH: Thanks, Rockelle, for joining here on the Porch and for all the good work you're doing for the literary community in Bluffton. I look forward to seeing you at the festival.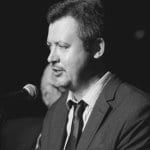 Jonathan Haupt is the executive director of the Pat Conroy Literary Center, the founding director of the annual Pat Conroy Literary Festival, and the former director of the University of South Carolina Press. He serves on the boards of the South Carolina Academy of Authors, Deckle Edge Literary Festival, and the Friends of South Carolina Libraries. With Nicole Seitz he is co-editor of the forthcoming anthology Our Prince of Scribes: Writers Remember Pat Conroy.