In partnership with the South Carolina Writers Association and the Beaufort County Black Chamber of Commerce, the Conroy Center's monthly Open Mic Night will be held at Sandies (711 Bladen St.) on Thursday, June 8, from 6:00 to 7:30 p.m. Our featured writer is poet Helen P. Bradley, author of the novel Breach of Trust, forthcoming in May 2023.
When: Thursday, June 8, 2023 at 6 PM – 7:30 PM EDT
Price: Free · Duration: 1 hr 30 min
Where: Sandies (711 Bladen St.)
Interested in reading as part of Open Mic? Let us know at contact@patconroyliterarycenter.org
We want to build our community of writers and an appreciation for the art and talent of new, emerging, and long-time writers. Thank you for supporting this partnership!
About our featured writer: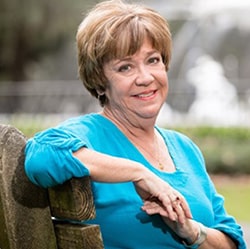 Helen P. Bradley's debut novel Breach of Trust draws from her experiences during twenty-seven years heading a nationally-recognized crime victim advocacy program. A former newspaper journalist, Helen has written curricula, essays, and articles for the National Organization for Victim Assistance, the National Center for Victims of Crime, and the Georgia Victim Assistance Academy. Her writing has been published in The Savannah Anthology, Savannah Magazine, The Savannah Morning News, and Law Enforcement Magazine. She volunteered for 10 years with Deep Center, a Savannah youth literacy program that won a 2015 National Endowment for the Arts award.
In August 2022, Helen won first place in a national essay contest out of a field of 55 entries. NextTribe, the "voice of women aging boldly," sponsored the contest in which Helen's essay, "From High Heels to Hot Wheels," reveals how she unexpectedly became a first-time mom at the age of 52, when her husband's two-year-old grandson came to live with them. Learn more at www.helenpbradley.com.

This program and others like this would not be possible without your financial help for which, as always, Pat Conroy Literary Center gratefully thanks you.