Saturday April 15, 2023 – 5-7:00 PM EDT
Price: $36 (includes a signed copy of her latest novel)
Registration: Register at Eventbrite
Venue: The Rhett House Inn | 1009 Craven St., Beaufort
Website: Facebook Event Page
The Pat Conroy Literary Center, NeverMore Books, and The Rhett House Inn will host an evening with USA Today bestselling novelist Colleen Oakley, author of the newly released The Mostly True Story of Tanner & Louise–named a Most Anticipated New Release of 2023 by Southern Living and Today. The $36 registration fee includes a signed copy of the novel, the author's book talk, and refreshments, and music by the Alibis. Additional copies of the author's books will be available for sale and signing through NeverMore Books. This special event will be held at The Rhett House Inn (1009 Craven St., Beaufort) on Saturday, April 15, at 5:00-7:00 p.m.
Register at Eventbrite
About The Mostly True Story of Tanner & Louise
"Ambitionless 21-year-old Tanner needs a place to live, but gets a lot more than she bargained for when she agrees to work as live-in caregiver for Louise, a vodka-swilling, sharp-as-a-tack elderly woman. The little old lady might not be as innocent as she seems, though, especially when she tells Tanner they need to make a quick getaway. Is Louise the culprit behind a legendary jewel heist? With a wild road trip, a classic car and a love interest reminiscent of a young Brad Pitt, The Mostly True Story of Tanner & Louise is tailor-made for fans of Thelma and Louise."—Reader's Digest
"You'll never be able to see what's coming in this wildly surprising, entertaining ride of a novel—which is a coming-of-age story, a contending-with-age story, and a surprising exploration of how womanhood is a matter of surprising others…and oneself."—Jodi Picoult, New York Times bestselling author of Wish You Were Here
"Oakley draws on Thelma and Louise for this delightful story of an elderly woman and her caregiver who go on the run…The antics of this unlikely duo makes for an entertaining buddy drama."—Publishers Weekly
Twenty-one-year-old Tanner Quimby needs a place to live. Preferably one where she can continue sitting around in sweatpants and playing video games nineteen hours a day. Since she has no credit or money to speak of, her options are limited, so when an opportunity to work as a live-in caregiver for an elderly woman falls into her lap, she takes it.
One slip on the rug. That's all it took for Louise Wilt's daughter to demand that Louise have a full-time nanny living with her. Never mind that she can still walk fine, finish her daily crossword puzzle, and pour the two fingers of vodka she drinks every afternoon.Bottom line: Louise wants a caretaker even less than Tanner wants to be one.
The two start off their living arrangement happily ignoring each other until Tanner starts to notice things—weird things. Like, why does Louise keep her garden shed locked up tighter than a prison? And why is the local news fixated on the suspect of one of the biggest jewelry heists in American history who looks eerily like Louise? And why does Louise suddenly appear in her room, with a packed bag at 1 a.m. insisting that they leave town immediately? Thus begins the story of a not-to-be-underestimated elderly woman and an aimless young woman who—if they can outrun the mistakes of their past—might just have the greatest adventure of their lives.
ABOUT THE AUTHOR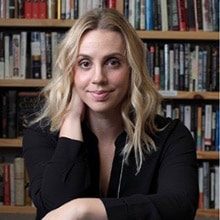 Colleen Oakley is the USA Today bestselling author of The Invisible Husband of Frick Island, You Were There Too, Close Enough to Touch, and Before I Go. Her books have been named best books by People, Us Weekly, Library Journal, and Real Simple, and have been long-listed for the Southern Book Prize. She lives in Atlanta, Georgia, with her husband, four kids, and the world's biggest lapdog.

This program and others like this would not be possible without your financial help for which, as always, Pat Conroy Literary Center gratefully thanks you.