Friday April 14, 2023 – 5:30-8:00 PM EDT
Price: Free public drop-in event
Registration: No advance registration needed
Venue: Pat Conroy Literary Center | 601 Bladen St., Beaufort
Website: Facebook Event Page
Our nonprofit Conroy Center is honored to host the book launch for Jury of One, the new Beaufort-based legal thriller from novelist John Warley. This free public drop-in event will be held at the Conroy Center (601 Bladen St., Beaufort) on Friday, April 14, from 4:30 to 7:00 pm. Refreshments will be served. Books will be available for sale and signing. No advance registration needed.
As a special feature of this event, there will also be a jewelry give-away with a donation to the Conroy Center.
About Jury of One
In this legal thriller, South Carolina Circuit Court judge Dan Borders appears poised for selection to the state Supreme Court thanks to his controversial proposal for dealing with death penalty cases. But a divorce he entered years earlier for Alana Morgan, a bright, ambitious school teacher, leads to a relationship that puts both of their futures in jeopardy. On the night Alana's ex, Toby, is killed, Dan finds himself in the wrong place at the wrong time. He and Alana strike a deal that may save them both.
Can Dan trust Alana to keep her vow of silence? Can she rely on him to protect her when an aggressive young Indian prosecutor realizes her account of the confrontation raises suspicions? Alana and Dan depend on each other to avoid the cliff that awaits both if the pact is broken as Jury of One pushes the limits of human trust and moral reckoning to an unforgettable climax.
"John Warley's Jury of One is a penetrating tale that entertains while at the same time requiring us to reflect on our lives and the oft-stated maxim 'There but for the grace of God . . .' The story is built around a trial judge's idea for transforming the death penalty in an intriguing way that creates for him a potential path to South Carolina's highest court. But that path is clouded by one night's dalliance with an attractive woman that changes their lives forever. As the plot unfolds, you can see the inexorable finale coming in the judge's courtroom, but you have no idea how that fateful moment will arrive. Warley is a master of his craft, as you will readily agree while turning the pages of this compelling story of people captured by their choices."–Wyatt Durrette, Virginia trial attorney
"A promise made over a dead body conjoins two disparate lives in a compelling novel that's equal parts taut legal thriller and thought-provoking moral quandary. Jury of One keeps readers on their toes to the very end. A welcome addition to masterful storyteller John Warley's oeuvre."–Jonathan Haupt, coeditor, Our Prince of Scribes: Writers Remember Pat Conroy
ABOUT THE AUTHOR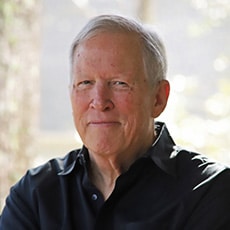 As a Citadel classmate and lifelong friend of Pat Conroy's, award-winning novelist John Warley began his career as a lawyer but was encouraged by Pat to follow his passion for writing. Warley's bestselling novel, A Southern Girl, was praised by Conroy as "stylish as a novel by John Irving and as tightly written as one by John Grisham."
His history of his undergraduate alma mater, Stand Forever, Yielding Never: The Citadel in the 21st Century, led to his selection to write both the inscription for the college's war memorial and "The Citadel at War," a narrative history of the wars and conflicts in which Citadel alumni have made the ultimate sacrifice. NPR selected his essay "Lingering at the Doors" for publication in This I Believe on Fatherhood.
Warley's other books include the novels The Home Guard, The Moralist, and The Moralist II. A graduate of the University of Virginia School of Law, he drew on decades of experience practicing law in writing Jury of One.

This program and others like this would not be possible without your financial help for which, as always, Pat Conroy Literary Center gratefully thanks you.