Bestselling author Kalynn Bayron discusses her YA fantasy novels Cinderella Is Dead and This Poison Heart in conversation with Holland Perryman, Millie Bennett, Alisha Arora, members of Beaufort High School's DAYLO: Diversity Youth Literary Organization, moderated by Jonathan Haupt, executive director of the Pat Conroy Literary Center. This free public event is presented virtually by the Bluffton Book Festival in collaboration with DAYLO and the nonprofit Pat Conroy Literary Center.
Register in advance at Eventbrite. Registered attendees will receive a Zoom webinar link 2 days prior to this free virtual author event.
Thursday, November 18, 2021 at 5 PM – 6:00 PM EDT
Price: Free · Duration: 1 hr
About This Poison Heart:
Briseis has a gift: with a single touch she can grow plants from tiny seeds to rich blooms. When Briseis's aunt dies and wills her a dilapidated estate in rural New York, Bri and her parents hope that surrounded by plants and flowers, she will finally learn to control her gift. But their new home is sinister in ways they never expected―it comes with a mysterious set of instructions, a walled garden filled with the deadliest botanicals in the world, and generations of secrets. There is more to Bri's sudden inheritance than she could have imagined, and she is determined to uncover it.
From the bestselling author of Cinderella Is Dead comes an enchanting story about a young woman with the power to conquer the dark forces descending around her.
"Bayron weaves science and Greek mythology into a captivating lore that lends weight to this fantastical contemporary story. She conjures entertaining and realistic dialogue and attentive characterization, while incisive descriptions and sumptuous prose evoke a wonderfully gothic atmosphere."–Publishers Weekly, starred review
"This Poison Heart masterfully weaves a unique story grounded in the depths of Greek mythology and Black girlhood, ideal for lovers of folklore or those who enjoy the thrill of a well-paced and unanticipated adventure." –Booklist, starred review
"Bayron strikes just the right balance of mystical and modern, bringing elements of mythology and spirituality to Bri's family roots while situating her securely in a relatable adolescence."–The Bulletin of the Center of Children's Books
"Bayron conjures a world filled with magic and mystery. Brings much-needed inclusivity and contemporary flavor to the teen fantasy genre."–Kirkus Reviews
"I'm a big fan of tropes and love seeing how marginalized authors take them in new and interesting directions, something Bayron does very well here, and a big part of that is due to how well-developed her characters are. . . . . It's a fast-paced mystery with a clever twist on the myth of Medea. The story is full of queer Black girl magic, and I can't wait to see where Kalynn Bayron takes it."–Locus Magazine
"The twists and turns of this fantasy tale will keep readers engaged . . . . Readers will be inspired."–School Library Connection
About the author: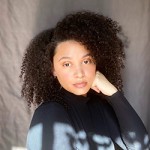 Kalynn Bayron is the bestselling author of the award-winning YA fantasy Cinderella Is Dead and the recently published This Poison Heart. She is a classically trained vocalist and when she's not writing you can find her listening to Ella Fitzgerald on loop, attending the theater, watching scary movies, and spending time with her kids. She currently lives in San Antonio, Texas with her family.
About the interviewers:
The first student intern of both the Pat Conroy Literary Center and the Friends of South Carolina Libraries, Beaufort High School senior Holland Perryman is the founder of DAYLO: Diversity Awareness Youth Literacy Organization, winner of the Ann Head Literary Prize for Short Story, and a book reviewer and author interviewer for the Charleston Post and Courier, the Beaufort Lowcountry Weekly, and the Southern Review of Books. Beaufort High School junior Millie Bennett and senior Alisha Arora are also Conroy Center interns and members of DAYLO. They are joined in this author conversation by their mentor, Jonathan Haupt, executive director of the Conroy Center, the former director of the University of South Carolina Press, and co-editor of Our Prince of Scribes: Writers Remember Pat Conroy, winner of 17 book awards.

This program and others like this would not be possible without your financial help for which, as always, Pat Conroy Literary Center gratefully thanks you.