Tuesday November 29, 2022 – 6-7:00 PM EDT
Price: Free · Duration: 1 hr
Registration: Seating is limited; please call to reserve your spot: 843-379-7025.
Venue: Pat Conroy Literary Center | 601 Bladen St., Beaufort
Website: Facebook Event Page
Our nonprofit Pat Conroy Literary Center will host an evening with award-winning novelist Carla Damron, author of The Orchid Tattoo, in conversation with Conroy Center executive director Jonathan Haupt on Tuesday, November 29, at 6:00 p.m. at the Conroy Center (601 Bladen St.).
This event is free and open to the public. Books will be available for sale and signing. Seating is limited; please call to reserve your spot: 843-379-7025.
ABOUT THE ORCHID TATTOO
"The pages of Carla Damron's The Orchid Tattoo whiz by so fast, so easily, I have to say it is one of the best nail-biters I've read in a while. Not only that, this well-crafted thriller features a smart, likeable hospital social worker—Georgia Thayer—as protagonist. She is pitted against a human trafficking ring. In short, The Orchid Tattoo is a great read with a social message."–Southern Literary Review
Crime fiction that makes a difference: in The Orchid Tattoo, award-winning author Carla Damron delves into the disturbing world of human trafficking. Social worker Georgia Thayer can balance her own mental illness with the demands of an impossible job. Mostly. But when her sister vanishes in the dead of night, her desperate quest to find Peyton takes her into the tentacles of a human trafficking network-where she encounters a young victim called "Kitten."
Kitten is determined to escape. She won't be trapped like the others. She won't sell her soul like Lillian, victim-turned-madam, feeding the dark appetites of international business moguls and government leaders. But the Estate won't let her out of its lethal grip, and her attempts at freedom threaten her very life.
Aided by Kitten and, at times, by the voices in her head, Georgia maneuvers to bring down the kingpin of Estate and expose its dark secrets, but her efforts place her-and the few people she allows to get close-in grave danger.
ABOUT THE AUTHOR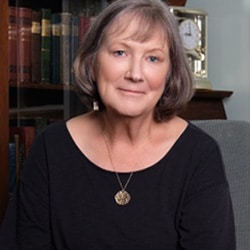 Carla Damron is a social worker, advocate, and author whose last novel, The Stone Necklace (about grief and addiction), won the 2017 Women's Fiction Writers Association Star Award for Best Novel and was selected as the One Community Read for Columbia, South Carolina. Damron is also the author of the Caleb Knowles mystery novels and has published numerous short stories, essays, and op-eds.
Damron holds an MSW and an MFA. Her careers as a social worker and writer are intricately intertwined; all of her novels explore social issues like addiction, homelessness, mental illness, and human trafficking. Damron volunteers with the League of Women Voters, Sisters in Crime, Palmetto Chapter (president), and Mutual Aid Midlands. She lives with her husband, Jim Hussey, and their large family of spoiled rescue animals.

This program and others like this would not be possible without your financial help for which, as always, Pat Conroy Literary Center gratefully thanks you.