Register in advance at Zoom. Registered attendees will receive a Zoom webinar link 2 days prior to this free virtual author event. You can also watch the live-streamed video on the Bluffton Book Festival Facebook page
Thursday, November 17, 2022 at 4:15 PM – 5:15 PM EDT
Price: Free · Duration: 1 hr
In this special virtual event of the Bluffton Book Festival, New York Times bestselling author Kalynn Bayron will discuss her YA fantasy novel This Wicked Fate, her highly anticipated sequel to This Poison Heart, in conversation with book reviewers Millie Bennett and Jonathan Haupt, as well as a live in-studio audience of students from Bluffton High School.
ABOUT THIS WICKED FATE
Briseis Greene has one chance to save her mother, but she'll need to do the impossible: find the last fragment of the deadly Absyrtus Heart. To locate the missing piece, she must turn to the blood relatives she's never known, learn about their secret powers, and take her place in their ancient lineage. But Briseis is not the only one who wants the Heart, and her enemies will stop at nothing to fulfill their own ruthless plans. The fates tell of a truly dangerous journey, one that could end in more heartache, more death. Strengthened by the sisterhood of ancient magic, can Briseis harness her power to save the people she loves most? Bestselling author Kalynn Bayron continues the story of Briseis and her family's unique magic in the sequel to This Poison Heart.
"Bayron returns to the world-shattering cliffhanger of This Poison Heart with its sequel, This Wicked Fate, altering our understanding of the Medea myth through the hero's quest of sixteen-year-old Briseis 'Bri' Greene to save one of her adoptive moms, Thandie, from the underworld and heal the multigenerational trauma that has plagued her supernatural family… The larger-than-life stakes of the novel are expertly counterbalanced with sharp-witted and humanizing moments of familial banter, teenage angst, and sapphic romance. In Bayron's capable hands, a haunting epic of grandiose ancient tragedies rippling across generations of oppression also becomes an inspiring story about how the love, trust, and faith of one girl and her family can indeed save the world."—Millie Bennett and Jonathan Haupt, Charleston Post and Courier
"The book centers Black characters, and its prose sings… This Wicked Fate is a delightful novel about literal Black Girl Magic, found family, and queer love, with adventures and a satisfying twist on Greek mythology."―Foreword Reviews, starred review
"This duology closer delves deeper into mythology while depicting textured, realistic relationships."―Kirkus Reviews
About the author: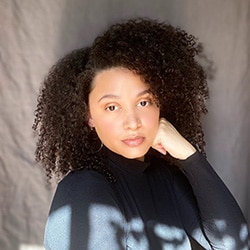 Kalynn Bayron is the New York Times bestselling author of the award-winning YA fantasy novels Cinderella Is Dead, This Poison Heart, This Wicked Fate, and The Vanquishers. She is a classically trained vocalist and when she's not writing you can find her listening to Ella Fitzgerald on loop, attending the theater, watching scary movies, and spending time with her kids. She currently lives in upstate New York with her family.
About the interviewers:
Millie Bennett is a senior at Beaufort High School, where she is a member of the National Honor Society, Diversity Awareness Youth Literacy Organization, and Letters for Rose. Bennett was selected as an intern of the Pat Conroy Literary Center in 2021 and of the Friends of South Carolina Libraries in 2022. She has been published as a writer and artist in the Beaufort County School District's River of Words and Camp Conroy's Destinesia: An Anthology of Change, and as a book reviewer in the Pulitzer Prize-winning Charleston Post and Courier. Jonathan Haupt is the executive director of the Pat Conroy Literary Center, the former director of the University of South Carolina Press, and coeditor of Our Prince of Scribes: Writers Remember Pat Conroy, winner of 17 book awards. They will be joined in this author conversation by students from Bluffton High School.

This program and others like this would not be possible without your financial help for which, as always, Pat Conroy Literary Center gratefully thanks you.