Friday November 4, 2022 – 5:30-6:30 PM EDT
Price: Free · Duration: 1 hr
Location: Sandies (711 Bladen St.)
Poet Glenis Redmond is a 2022 inductee of the South Carolina Academy of Authors (the Palmetto State's Literary Hall of Fame) and a 2020 recipient of the South Carolina Governor's Award for the Arts. Poet Marlanda Dekine is newly named as the South Carolina Arts Commission Fellow for Spoken Word / Slam Poetry and winner of the 2021 New Southern Voices Poetry Prize.
Both award-winning writers will be reading from their poetry at Sandies at the Beaufort County Black Chamber of Commerce (711 Bladen St.) on Friday, November 4, at 5:30 p.m. Hosted by the nonprofit Pat Conroy Literary Center, this event is free and open to the public. Sandies will be open for dine-in or take-out dinner that evening. Books will be available for sale and signing.
Website: Facebook Event Page
ABOUT GLENIS REDMOND, AUTHOR OF LISTENING SKIN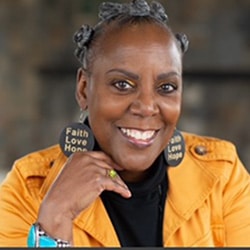 Glenis Redmond is a performance poet, a Kennedy Center Teaching Artist, and a Cave Canem alumni. She is the author of three books of poetry: Backbone, Under the Sun, and What My Hand Say, with more forthcoming in 2022: Listening Skin, Three Harriets & Others, and Praise Songs for Dave the Potter, Art by Jonathan Green, and Poetry by Glenis Redmond. She is presently working on a seventh collection, Port Cities: Portals of the Second (Domestic) Middle Passage. In 2020, Redmond received the highest arts award in South Carolina, the Governor's Award. She was inducted into the South Carolina Academy of Authors earlier this year.
Redmond was the founder of the Greenville Poetry Slam. She confesses she is Bi-Carolinian as she lived in Asheville, North Carolina, for seventeen years. During that time, she was a Southern Fried Slam champion twice and ranked twice in the top ten at the National Slam. Redmond was awarded the WNC Best Poet through the Mountain Xpress so many times she was placed in the Hall of Fame. She received her MFA in Poetry from Warren Wilson College.
Redmond is a North Carolina Literary Fellowship recipient and helped to create the first Writer-in-Residence program at the Carl Sandburg Home National Historic Site in Flat Rock, North Carolina. She has spent almost three decades touring the country as a poet and teaching artist. She served as the Poet-in-Resident for the Peace Center in Greenville and the State Theatre in New Brunswick, NJ. As a Kennedy Center Teaching Artist, for seventeen years, Redmond has created and facilitated poetry workshops for school districts across the country. Since 2014, she has served as the mentor poet for the National Student Poets Program through Scholastic Art and Writing Awards. In the past, she has prepared these exceptional youth poets to read at the Library of Congress, the Department of Education, and for First Lady Michelle Obama at The White House.
Redmond's poetry has been showcased on NPR and PBS and has been most recently published in Orion Magazine, storySouth and The New York Times, as well as numerous literary journals nationally and internationally. She believes poetry is the mouth that speaks when all other mouths are silent. www.glenisredmond.com
ABOUT MARLANDA DEKINE, AUTHOR OF THRESH & HOLD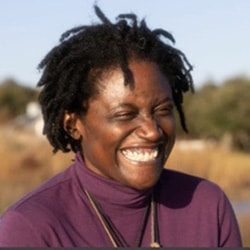 Marlanda Dekine (they/she) is a poet, a voice, and a presence. Their collection of poems, Thresh & Hold, won the 2021 New Southern Voices Poetry Prize at Hub City Press. Dekine is the creator of i am from a punch & a kiss, a multimedia book/mixtape project, and the founder of Speaking Down Barriers, a nonprofit working towards equity and justice.
They are a Castle of Our Skins Shirley Graham Du Bois Creative-in-Residence, a Palm Beach Poetry Festival Langston Hughes Fellow, Tin House Own Path Scholar, Emrys Scholar, and a Watering Hole Fellow. Their work has been published in Root Work Journal, Oxford American, POETRY Magazine, Emergence Magazine, Southern Humanities Review, and elsewhere.
Currently, Dekine serves as Healing Justice Fellow with Gender Benders, a transgender advocacy group in the South, and as a guest poet with the composer/performer collective, counter)induction. Their work is obsessed with ancestry, memory, & the process of staying within one's own body, leaving spells & incantations for others to follow for themselves. https://sapientsoul.square.site

This program and others like this would not be possible without your financial help for which, as always, Pat Conroy Literary Center gratefully thanks you.