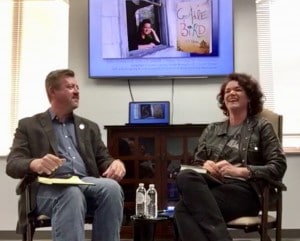 "Growing up in a small southern town, you get to know who the storytellers are…. It took me a long time to come to the conclusion that, yes, I wanted to be a writer. But I was always a story chaser."
Novelist J.C. Sasser, author of Gradle Bird, made a return appearance on Porch Talk–following her earlier print interview with Conroy Center executive director Jonathan Haupt–in this Porch Talk Live appearance at the Beaufort County Library's main branch on Friday, October 27. You can watch their lively conversation in full at the video link below.
Pull up a rocking chair, click Play and come join us on the Porch.
Our thanks to our many partners and sponsors in this Porch Talk Live event: the Beaufort County Library System, Historic Beaufort Foundation, NeverMore Books, and the Pulpwood Queens book club.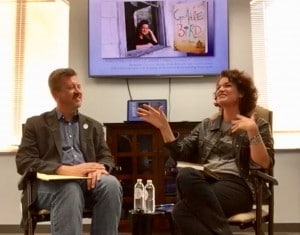 About our Porch Talk guest:
J.C. Sasser started her professional career at age twelve, working as a dishwasher, waitress, and cook at a truck stop off Georgia's I-16. Over her life, she has worked as an envelope licker, tortoise tagger, lifeguard, Senate page, model, editor, water-polo coach, marine biologist, plant grower, software consultant, and 6-Sigma Black Belt. Gradle Bird was a short list finalist in the 2015 William Faulkner-William Wisdom novel competition, and her other writing credits include the short story and screenplay, The Pigeon Catcher. She lives in an old barn on Edisto Island, SC with her husband, Thomas, along with their two sons, T.C. and Robert Esten, and two dogs, Cro and Blue Moon June. Gradle Bird is her first novel.
About our Porch Talk interviewer:
Jonathan Haupt is the executive director of the Pat Conroy Literary Center, the founding director of the annual Pat Conroy Literary Festival, and the former director of the University of South Carolina Press. He serves on the boards of the South Carolina Academy of Authors, Deckle Edge Literary Festival, and the Friends of South Carolina Libraries. With Nicole Seitz he is co-editor of the forthcoming anthology Our Prince of Scribes: Writers Remember Pat Conroy.