"Here is my sacrifice: my hummingbird landing in a stranger's palm." ― Ada Limón
What does a rotting orange tell us about the passage of time? The empty tire swing about a childhood long gone. The abandoned house with toys strewn across the yard may tell us a story of divorce or poverty. The dog napping beneath the oak waiting for its owner to return home tells us the story of loyalty and unconditional love.
Imagery evokes mood, sparks memories. Poetry is built upon imagery, creating narratives we can hold onto. This workshop will discover the power of imagery and its ability to build unforgettable narratives as well as explore other elements of poetry such as how line breaks create ambiguity, meaning, and rhythm.
Thursday, September, 17; 6:00-8:00 p.m. $60/person. Limited to 15 participants. This workshop will be held as an online video conference call through Zoom. Details for joining the video call will be provided to all participating writers after registering. Course materials will be provided as email attachments.
Tickets are available here: www.eventbrite.com/e/poetry-as-storytelling-narrative-art-of-imagery-tickets-118658557941
Website: Facebook Event Page
About our instructor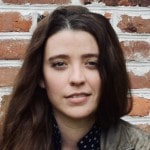 Brooke McKinney joined the Pat Conroy Literary Center staff in March 2020 as the Communications and Events Coordinator. She earned her Bachelor of Arts in English from Valdosta State University and holds an MFA in Creative Writing from Hollins University in Roanoke, Virginia, where she also served as a teaching fellow. Currently, she lives in Saint Helena Island, South Carolina where she continues to write the story of her loyal friend Max, a bulldog she lived and traveled with for thirteen years and who gave her a greater understanding of love and survival. She is the recipient of two Academy of American Poets Awards, and her work was a finalist in the Key West Emerging Writer's Contest and the World's Best Short-Short Story Contest. Brooke's work has appeared or is forthcoming in New South, Salt Hill Journal, Potomac Review, The Southeast Review, RHINO Poetry, Columbia Poetry Review, Artemis and Kestrel.

This program and others like this would not be possible without your financial help for which, as always, Pat Conroy Literary Center gratefully thanks you.