The writing process, like life, is wedded to uncertainty and can feel chaotic. As esteemed writer E.L. Doctorow said, "Writing is like driving at night in the fog. You can only see as far as your headlights." So how do we trust the process and let the unknown be a guide, a tool for revelation, rather than a block? How do we manage fear and stress and allow our writing process to be a journey of discovery?
In this three-part workshop, we will explore new approaches to a more joyful and stable relationship with our writing by delving into our purpose as writers, our inspirations, our questions and our playfulness. We will discuss tools and techniques to bring wonder and curiosity to our creative process so that we look closer and see things in a fresh way. Through interactive exercises and writing prompts, we will generate new writing from a sense of openness and play.
This workshop will be held as an online video conference call through Zoom. Details for joining the video call will be provided to all participating writers after registering. Course materials will be provided as email attachments before the first of the three sessions Wednesdays, October 21, 28, and November 4; 6:00-8:00 p.m. on Zoom.
Tickets are $100.00 for all three sessions.
Register at:  www.eventbrite.com/e/writing-as-sanctuary-creating-a-joyful-open-writing-practice-tickets-122062386885
This workshop is limited to 12 participants. Two scholarships are available based on financial need. To apply for a scholarship, please email a brief statement (200 words max.) explaining your financial need to emilydfj@gmail.com by October 11.
Website: Facebook Event Page
About our instructor: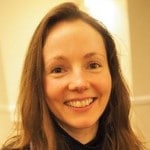 Emily Davis-Fletcher earned her BFA in creative writing from Stephens College and her MA in women's studies from the National University of Ireland Galway. Her poetry has been published in Southword, Crannóg Magazine, the Irish Examiner, and The High Window, among other journals. She has taught creativity and poetry workshops at the University of South Carolina Beaufort and the Pat Conroy Literary Center. In 2018, Emily was selected to read at the Cork International Poetry Festival Introductions Reading; and, most recently, her poem 'Sow Calling' was a finalist in the Sublingua Prize for Poetry 2019.

This program and others like this would not be possible without your financial help for which, as always, Pat Conroy Literary Center gratefully thanks you.