Location: Technical College of the Lowcountry, McLean Hall, Rm 104, Beaufort, SC
Limited to 12 participants  – Fee: $25
This poetry workshop offers an overview of the nearly 700-year history of haiku, including many instructive examples, as well as opportunity for participants to craft their own haiku through writing exercises and critiques. The aim of the workshop is to demystify and rediscover haiku. Haiku is often explained in the language of Zen or by the syllable count. Poet Miho Kinnas approaches the form in a way that illustrates the wider and more accessible world of haiku through examples. This technique also demonstrates how learning vivid and clear haiku writing is a transferable art and can strengthen and inform one's approach to other kinds of writing as well.
"Miho Kinnas gives us a new understanding of haiku. Exploring its ancient roots through to present day's more experimental craft, she demystifies this brilliant, lean form of poetry. Kinnas makes haiku accessible and, dare I say it, fun. Attend this if you love poetry. Attend it if you don't– you might find that your perspective will change."– Carla Damron, author of The Stone Necklace: A Novel
"Although I've been a writer for years, I had never considered trying haiku because it's 1,000 times harder to be brief than to expound on a topic. Miho Kinnas' workshop showed me not only the breathless beauty in brevity, but how to craft my own haikus without fear. She is an astonishing poet and a great teacher–an unbeatable combination."– Mickey Goodman, ghost writer, journalist and co-author of three books, including Nine Lives of a Marriage: A Curious Journey.
Website: Facebook Event Page
Examples for discussion in the workshop:
Petals of bush clover
mixed with small shells
along the shore
OR
Along the shore
mixed with small shells
petals of bush clover
Write a one-paragraph story based on this haiku by Bob Boldman:
Mirror
My face where
I left it
Advance registration required. To register for workshop, please contact the Pat Conroy Literary Center at 843-379-7025. (Online registration: http://haikuworkshop.bpt.me/ Processing fess apply.) Workshop registration fees are non-refundable, but if you must cancel, the fee can be applied toward a future Conroy Center class or event.
About our Instructor: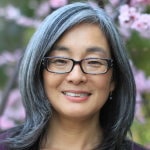 Miho Kinnas is the author of the chapbook Today, Fish Only. Born and raised in Japan, Kinnas lives on Hilton Head Island where she is a member of the Island Writers Network. She holds an M.F.A. in poetry from the City University of Hong Kong. Miho's poems also appeared in Cha: Asian Literary Magazine, 24Pearl Magazine, Real Systems, and Eunoia Review, as well as The Classical Gardens of Shanghai and Quixoteca: Poems East of La Mancha. She was the translator of the poems appeared in Poetry Kanto, Star*Line, and a tri-lingual anthology of haiku, Equatorial Calm.