Finding Structure for a Messy Life: Shaping Stories from Memory. Saturday, August, 1; 6:00-8:00 p.m. $60/person. Limited to 15 participants. This workshop will be held as an online video conference call through Zoom. Details for joining the video call will be provided to all participating writers after registering. Course materials will be provided as email attachments.
Reserved tickets here: https://patconroyliterarycenter.eventbrite.com
Website: Facebook Event Page
"Tell me, what is it you plan to do with your one wild and precious life?" -Mary Oliver
Memory is a strange and critical tool for writers. Our experiences are buried in memory, waiting to be unearthed. From childhood to present, we have endured trauma and loss, but also love and beauty. When telling our stories, we may want to tell things chronologically, stating what happens to us, then moving on to the next thing, but our lives are more complicated as we discover our emotional truths.
This workshop will invite storytellers to learn new ways to shape memories into scenes, experiences into meaning, and finding a structure to mold our messy lives into something we can share with the world. Memory and storytelling come together to create meaning, to teach others, and to connect us to one another. Sometimes it's not the story you're telling, but how you tell it.
We will discuss how to choose a structure for your memoir or collection of essays, such as using reverse chronological, beginning with turning points, or using a thematic and associative approach. Margaret Atwood once said, "You're never going to kill storytelling, because it's built into the human plan. We come with it."
About our instructor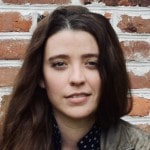 Brooke McKinney joined the Pat Conroy Literary Center staff in March 2020 as the Communications and Events Coordinator. She earned her Bachelor of Arts in English from Valdosta State University and holds an MFA in Creative Writing from Hollins University in Roanoke, Virginia, where she also served as a teaching fellow. Currently, she lives in Saint Helena Island, South Carolina where she continues to write the story of her loyal friend Max, a bulldog she lived and traveled with for thirteen years and who gave her a greater understanding of love and survival. She is the recipient of two Academy of American Poets Awards, and her work was a finalist in the Key West Emerging Writer's Contest and the World's Best Short-Short Story Contest. Brooke's work has appeared or is forthcoming in New South, Salt Hill Journal, Potomac Review, The Southeast Review, RHINO Poetry, Columbia Poetry Review, Artemis and Kestrel.

This program and others like this would not be possible without your financial help for which, as always, Pat Conroy Literary Center gratefully thanks you.