This workshop will be held as an online video conference call through Zoom. Details for joining the video call will be provided to all participating writers after registering. Course materials will be provided as email attachments.
$45/person, limited to 15 participants.
Website: Facebook Event Page
"All my life, my heart has yearned for a thing I cannot name." ― André Breton
Your character is six-foot-tall, has dark hair and gangly arms. Taps their nails when nervous, sits with legs crossed, wears a clever grin, and can't have a cup of coffee without a cigarette. But who is this character beyond their physical descriptions and gestures? As Robert Olen Butler said, "We are the yearning creatures of this planet." This workshop will explore the inner lives of our characters, revealing their psychological and emotional landscapes. What drives them, makes them tick? What are their habits? Do they dust their collection of porcelain dolls only on Sundays? Do they collect rocks or rescue venomous snakes? There are a million ways to create memorable characters. What is the desire line in their story? Give them what they want, or not. Desire makes our characters authentic, lifting them off the page and into real life. Whether you're writing short stories, essays, poems, memoir, or novel, this workshop will delve deeper into asking the question: What do my characters want? We'll also discuss writers such as Flannery O'Connor and Raymond Carver, how their characterization brought people and their stories to life.
Reserved tickets here: https://patconroyliterarycenter.eventbrite.com
About our instructor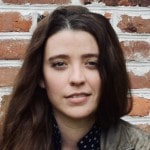 Brooke McKinney is a poet and writer from South Georgia where she grew up on a farm and was raised by bulldogs. She earned her Bachelor of Arts in English from Valdosta State University and holds an MFA in Creative Writing from Hollins University in Roanoke, Virginia. Brooke's work was a finalist in the Key West Emerging Writer's Contest and the World's the Best Short-Short Story. Her nonfiction has received scholarships to the Sewanee Writers' Conference and Writers in Paradise. She is the recipient of two Academy of American Poets Awards. Recently, her poetry was shortlisted for the Montreal International Poetry Prize. Her work has appeared or is forthcoming in The Florida Review, New South, Salt Hill Journal, Potomac Review, The Southeast Review, Columbia Poetry Review, RHINO Poetry, Artemis and Kestrel. Brooke joined the Pat Conroy Literary Center Staff in March 2020 as the Communications and Events Coordinator. She lives in Beaufort, South Carolina with two dogs, Jane and Arlo, and a cat named Blue.

This program and others like this would not be possible without your financial help for which, as always, Pat Conroy Literary Center gratefully thanks you.