Historical fiction is, as its name suggests, a huge, hybrid genre. From Out of the Dust to Outlander, from a small story for young adults to a fabulously successful adult series that spans several centuries, historical fiction encompasses almost all of time and all of storytelling. Since the genre is so vast, a writer who's considering it might want to explore its parameters and possibilities. Award-winning fiction writer Deno Trakas will offer insights and guidance to help participants find the story that they can tell successfully. The workshop will also discuss the merging of fact and fiction and the techniques that can bring them both to life in a way that appeals to readers. Join us to talk, to listen, and/or to share some of your work. (The amount you may share depends on the number of participants.) Open to all levels of experience.
Limited to 8 participants
Website: Facebook Event Page
About our Instructor: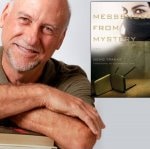 Author of the historical literary thriller Messenger from Mystery, Deno Trakas is the Laura and Winston Hoy Professor of English and director of the writing center at Wofford College in Spartanburg, South Carolina. He has published fiction and poetry in journals and anthologies, two chapbooks of poems, and a memoir entitled Because Memory Isn't Eternal: A Story of Greeks in Upstate South Carolina. Trakas is a five-time winner of the South Carolina Fiction Project Prize and a recipient of the South Carolina Academy of Authors Fellowship in Fiction.