Thursday January 21, 2021
Event by Pat Conroy Literary Center, Pat Conroy Literary Festival and Niles Reddick
Price: Free · Duration: 2 hr
Public · Anyone on or off Facebook
Website: Facebook Event Page
Flash fiction is defined as very short fiction, but there are varying degrees of how short that fiction actually should be. In this workshop, Reddick will share a few examples of excellent flash fiction from a variety of writers and literary magazines and journals in which they were published as models in advance, so workshop time can be spent crafting a piece.
This workshop will be held as an online video conference call through Zoom. Details for joining the video call will be provided to all participating writers after registering. Course materials will be provided as email attachments before the first of the three sessions.
January 21; 6:00-8:00 p.m. on Zoom. $45/person, limited to 15 participants. Learn more and register at https://patconroyliterarycenter.eventbrite.com
About our instructor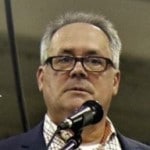 Niles Reddick is author of the Pulitzer nominated novel Drifting too far from the Shore, two collections Reading the Coffee Grounds and Eppie finalist Road Kill Art and Other Oddities, and a novella and Foreward finalist Lead Me Home. His work has been featured in seventeen anthologies, in twenty-two countries, and over three hundred publications including The Saturday Evening Post (ranking him among the Top Ten Most Popular New Fiction of 2019), PIF, New Reader Magazine, Forth Magazine, Boston Literary Magazine, Flash Fiction Magazine, and Storgy. He works for the University of Memphis and lives in Jackson, Tennessee, with his wife Michelle, two teens, and two schnauzers named for two Poet Laureates.

This program and others like this would not be possible without your financial help for which, as always, Pat Conroy Literary Center gratefully thanks you.