The Pat Conroy Literary Center, in partnership with the Beaufort County Library, presents WOMEN OF CAROLINA, a ten-week, five-book discussion series supported by a grant from South Carolina Humanities. Each free, public discussion will be led by a visiting literary scholar. Copies of all five books featured in this series are available for circulation through Beaufort County Library, thanks in part to the South Carolina State Library.
On March 30th, Julia Eichelberger discusses the New York Times best-selling novel The Secret Life of Bees by Sue Monk Kidd. "This sweeping debut novel, excerpts of which have appeared in Best American Short Stories, tells the tale of a 14-year-old white girl named Lily Owen who is raised by the elderly African American Rosaleen after the accidental death of Lily's mother. Following a racial brawl in 1960s Tiburon, SC, Lily and Rosaleen find shelter in a distant town with three black bee-keeping sisters. The sisters and their close-knit community of women live within the confines of racial and gender bondage and yet have an unmistakable strength and serenity associated with the worship of a black Madonna and the healing power of honey. In a series of unforgettable events, Lily discovers the truth about her mother's past and the certainty that 'the hardest thing on earth is choosing what matters.'
The stunning metaphors and realistic characters are so poignant that they will bring tears to your eyes."—Library Journal
"In the 1990s, [Sue Monk] Kidd also began to focus on writing short fiction. She was awarded a South Carolina Fellowship in Literature from the South Carolina Arts Commission in 1994 and South Carolina Academy of Authors Fellowships in Fiction in 1994 and 1996. After taking graduate courses in writing at Emory University in Atlanta, Kidd expanded a short story published in 1993 into her first novel, The Secret Life of Bees. Published by Viking in 2002, Kidd's overwhelmingly successful transition into book-length fiction was born from her childhood in Sylvester, Georgia; nurtured by her experiences with segregation and the civil rights movement; and brought to fruition through her unique feminist perspective.
Set in Tiburon, South Carolina, in 1964, the novel tells the intertwined stories of fourteen-year-old Lily Melissa Owens, who is white and struggling to discover the past of the mother she saw killed; and Rosaleen, Lily's African American caretaker whose determined attempt to vote results in her savage beating at the hands of three white men. Lily and Rosaleen hitchhike to Tiburon, where they are taken in by the Boatwright sisters, under whose beneficent influence and guidance Lily and Rosaleen come to terms with both the present and the past. The novel spent more than two years on the New York Times bestseller list and has been published in thirty-five countries. It won the 2003 SEBA Book of the Year Award, the 2004 Book Sense Book of the Year Award for a paperback, and the 2005 Southeastern Library Association Fiction Award. In 2008 The Secret Life of Bees was adapted into a major motion picture by Fox Searchlight starring Dakota Fanning and Queen Latifah and directed by Gina Prince-Blythewood."—Andrew Geyer, South Carolina Encyclopedia
About Our Presenter: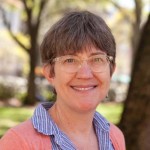 Julia Eichelberger began teaching at the College in 1992 and is currently Marybelle Higgins Howe Professor of Southern Literature. She has taught a variety of courses in American literature, including Southern literature, postwar American poetry, African American literature, 20th-century American fiction, Jewish American literature, and Charleston writers, as well as first-year writing. She is the editor of Tell About Night Flowers: Eudora Welty's Gardening Letters, 1940-1949.
Sponsor: South Carolina Humanities
Website: Facebook Event Page