The Rose Hill Author Series is a partnership between the Pat Conroy Literary Center, the Rose Hill Readers book club, and Oak Terrace at Rose Hill to highlight the exceptional stories of lowcountry authors in engaging lunchtime discussions. Tuesday, May 19, Rose Hill Author Series lunch will feature husband-and-wife travel writers Lynn and Cele Seldon, authors of the newly published guide 100 Things to Do in Savannah Before You Die.
Hosted by the Rose Hill Readers book club and held at Oak Terrace at Rose Hill (4 Clubhouse Dr., Bluffton), this special literary event is open to the public. Registration for the lunch is $25.00. Menu: TBD. Books will be available for sale and signing following the discussion. A portion of the proceeds from this event helps support the year-round educational mission of the nonprofit Pat Conroy Literary Center. Register in advance by Friday, May 15.
Tickets available here: https://rosehillauthorseries5.bpt.me
Website: Facebook Event Page
About  100 THINGS TO DO IN SAVANNAH BEFORE YOU DIE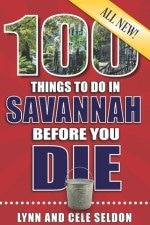 With tree-lined squares dripping with Spanish moss, cobblestoned streets down by the river, and popular trolley tours, Savannah has become a darling of the Southeast United States. Thanks to its blend of grace, beauty, history, and oh-so-Southern dining and hospitality, the "Hostess City" has a way of charming visitors and locals alike. 100 Things to Do in Savannah Before You Die is filled with easy-to-follow suggestions of where to go, what to see, can't-miss dining, outdoor recreation, events and entertainment, and where to shop 'til you drop, along with seasonal activities and suggested itineraries.From dining in a former Greyhound bus station with a James Beard award-winning chef to paddling a kayak through the many serene waterways surrounding Savannah, and from exploring the area's heritage with the Coastal Heritage Society to the various artsy offerings from the Savannah College of Art and Design (SCAD), this is a Savannah guidebook for everyone. Savannah can be overwhelming, and everyone from the first-time or frequent visitor to seasoned locals can cut through the clutter with this collection of adventures, meals, off-beat treats, and historical insight to all parts of the city. Let long-time Savannah experts Lynn and Cele Seldon be your guides on your Savannah adventure.
About LYNN and CELE SELDON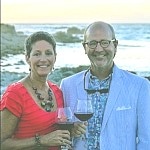 Lynn and Cele Seldon make up the team that is Seldon Ink. They have spent more than thirty years covering all aspects of travel. Along with a half-dozen books, their work has appeared in Southern Living, Taste of the South, The Local Palate, Cruise Travel, South Carolina Living, TrailBlazer, FoodNetwork.com, USA Today, Atlanta Journal-Constitution, Charlotte Observer, various in-flight publications, and many AAA magazines. They also wrote bestselling 100 Things to Do in Charleston Before You Die. Follow along on their adventures at www.seldonink.com or @seldonink.

This program and others like this would not be possible without your financial help for which, as always, Pat Conroy Literary Center gratefully thanks you.