Point-Of-View: Considering Fiction's Most Important Element –  Led by Anthony Grooms
Though readers tend to focus on characterization and plot, these could not be realized without the writer's careful consideration of the narrator's voice, that is to say, without the element of point-of-view (POV). Through its sometimes complex renderings of person, form, diction, distance, and reliability, POV becomes the trunk from which the branches of the other elements sprout and intertwine. It is the voice of the storyteller.
This workshop will explore some of the theoretical aspects of POV and will practice adapting these ideas in various exercises as a way to note their effect on both story structure and the reader. Participants may bring the opening 100 words or so of a short story or novel on which they are working.
Register here: https://patconroyliterarycenter.eventbrite.comwww.eventbrite.com
Tuesday July 28; 6:00-8:00 p.m. $45/person. Limited to 15 participants. This workshop will be held as an online video conference call through Zoom. Details for joining the video call will be provided to all participating writers after registering. Course materials will be provided as email attachments.
Website: Facebook Event Page
About our Instructor: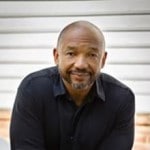 Anthony Grooms is the author of Bombingham: A Novel and Trouble No More: Stories, both winners of the Lillian Smith Book Award for fiction and adopted for study in universities. He has taught writing and American literature at universities in Ghana and Sweden, and since 1994, at Kennesaw State University in Georgia. He has lectured widely on American literature and culture, especially on topics related to narrations that reflect on the American Civil Rights Movement. Grooms is a Fulbright Fellow, a Yaddo Fellow, a Hurston-Wright Foundation Legacy Award finalist, and an Arts Administration Fellow from the National Endowment for the Arts. His novel, The Vain Conversation, was published in spring 2018, and has earned literary honors from the Georgia Center for the Book, the Women's National Book Association, the Trio Multi-Arts Program, and the Black Caucus of the American Library Association. For more about Grooms, visit www.anthonygrooms.com

This program and others like this would not be possible without your financial help for which, as always, Pat Conroy Literary Center gratefully thanks you.