A National Poetry Month Special Event
In partnership with the Beaufort Arts Council, the Pat Conroy Literary Center will host award-winning poet Tjawangwa Dema, author of The Careless Seamstress, for a free public reading on Wednesday, April 10, at 5:30 p.m. at Beaufort Arts Council.  Books will be available for sale and signing following the reading.
About Tjawangwa Dema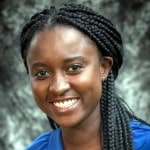 Tjawangwa Dema is a Motswana poet, educator, and arts administrator. Her collection The Careless Seamstress (University of Nebraska Press, 2019) won the Sillerman First Book Prize for African Poetry. Her chapbook Mandible (Slapering Hol Press, 2014) was selected for the African Poetry Book Fund's New-Generation African Poets series. She has an M.A. in Creative Writing from Lancaster University and has given readings and taught workshops over twenty countries. Her poems have been translated into languages including Spanish, Chinese, German and Swedish. She lives in the UK and works as a writer and literary events producer.
Learn more at http://tjdema.com
About THE CARELESS SEAMSTRESS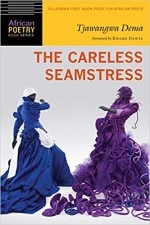 Winner of the Sillerman First Book Prize for African Poets, The Careless Seamstress, evokes the national and subjective while reemphasizing that what is personal is always political.  The girls and women in these poems are not mere objects; they speak, labor, and gaze back, with difficulty and consequence. The tropes are familiar, but in their animation they question and move in unexpected ways. The female body—as a daughter, wife, worker, cultural mutineer—moves continually across this collection, fetching water, harvesting corn, raising children, sewing, migrating, and spurning designations. Ultimately this is a collection as much preoccupied with domesticity as it is by the worldly.
Website: Facebook Event Page
"Tjawangwa Dema's poems are as bold, roving, and insistent as they are delicate and incisive. The Careless Seamstress is a ravishing debut."—Tracy K. Smith, U.S. poet laureate and author of Wade in the Water: Poems

"Dema's similes and metaphors do not announce themselves. Instead, they arrive with the command that comes when language seems inevitable—necessary. This is a quality of maturity and generosity in the poet whose commitment is to contain ideas and feelings in language that clarifies and complicates — a kind of quest for truth."—Kwame Dawes, Chancellor's Professor of English at the University of Nebraska-Lincoln and author of City of Bones

This program and others like this would not be possible without your financial help for which, as always, Pat Conroy Literary Center gratefully thanks you.