Join us for this free two-part program presented in partnership with the Beaufort County Library System–a prologue to our second annual Pat Conroy Literary Festival, October 19-22, celebrating our theme of the Transformative Power of Education.
2:00-3:00 p.m.
Pat Conroy as Student & Teacher
"The great teachers of the world fill you up with hope and shower you with a thousand reasons to embrace all aspects of life."—Pat Conroy, My Losing Season.
Pat Conroy Literary Center executive director Jonathan Haupt will share stories of Conroy's transformational years as a student at Beaufort High School and later as a teacher at BHS and on Daufuskie Island. This presentation includes audio and video clips, photographs, and both published and unpublished excerpts by and about Conroy (1945-2016), the best-selling author of a dozen novels and memoirs, including The Water Is Wide and The Prince of Tides. (An extended version of this program was previously presented as an Osher Lifelong Learning Institute class)
3:00-4:00 p.m.
William E. Dufford Documentary Screening
"I went into teaching because of Bill Dufford, because he had convinced me that there was no way a human being could live upon this earth and do anything better than to teach young people."—Pat Conroy
Get to know the remarkable story of one of Pat Conroy's mentors, Bill Dufford, an accomplished educator and school administrator whose career in public school integration and diversity education has been honored with the South Carolina Order of the Palmetto and the South Carolina Governor's Award in the Humanities. Dr. Dufford's story is told through a documentary film produced by his alma mater Newberry College. Then meet Dr. Dufford in person at the annual Pat Conroy Literary Festival this October 19–22.
Website: Facebook Event Page
About our Presenter: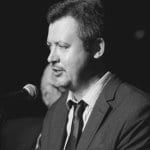 Jonathan Haupt is the executive director of the Pat Conroy Literary Center, the founding director of the Pat Conroy Literary Festival, and the former director of the University of South Carolina Press, where he created the Story River Books fiction imprint in partnership with Pat Conroy. Haupt serves on the boards of the South Carolina Academy of Authors, the Deckle Edge Literary Festival, and the Friends of South Carolina Libraries.