The 4th Annual Aiken Wine & Sign is a fundraiser to benefit Diann Shaddox Foundation for Essential Tremor. Free and open to the public, the event will be held on Saturday, April 27, in downtown Aiken, South Carolina–featuring author book signings, food, beer, wine, and live music.
See details at:
 www.diannshaddoxfoundation.org/aiken-wine–sign-for-et.html
Pat Conroy Literary Center executive director and Our Prince of Scribes: Writers Remember Pat Conroy co-editor Jonathan Haupt will be on hand for the day's book signings and special events.
Praise for "OUR PRINCE OF SCRIBES"
"A testament to his mentorship and passion for educating others, the book includes essays from more than sixty writers, including Rick Bragg, Nikky Finney, Mary Alice Monroe, Ron Rash, and Sallie Ann Robinson, one of Conroy's former students on Daufuskie Island. It's a moving tribute to the legacy of one of the South's brightest lights."–Garden & Gun's Talk of the South
Website: Facebook Event Page
About our presenter: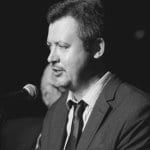 Jonathan Haupt is the executive director of the Pat Conroy Literary Center, the founding director of the annual Pat Conroy Literary Festival, and the former director of the University of South Carolina Press. He serves on the boards of the South Carolina Academy of Authors and the Friends of South Carolina Libraries and on the advisory board of the South Carolina Humanities and the affiliates steering committee of the American Writers Museum. Haupt's book reviews and author interviews have appeared in the Charleston Post and Courier; Lowcountry Weekly; Fall Lines; Shrimp, Collards & Grits magazine; and the Conroy Center's Porch Talk blog.

This program and others like this would not be possible without your financial help for which, as always, Pat Conroy Literary Center gratefully thanks you.