Writers looking to hone their skills often look to area writing conferences for help. Usually, these conferences offer workshops that discuss the various issues writers face. While many of these conferences offer plenty for fiction writers, nonfiction writers get largely ignored. To help alleviate the problem, Bell has put together a workshop aimed specifically toward writers of nonfiction. This two-hour virtual workshop will cover many issues that nonfiction writers need to know. Participants will receive handout via email and Bell provides his personal email address in case questions arise after the workshop. Participants are encouraged to contact Bell should such questions arise.
Tuesday, November, 17; 6:00-8:00 p.m. $45/person. Limited to 15 participants.
This workshop will be held as an online video conference call through Zoom. Details for joining the video call will be provided to all participating writers after registering. Course materials will be provided as email attachments.
Register: www.eventbrite.com/e/the-ins-and-outs-of-nonfiction-writing-tickets-118845643519
Website: Facebook Event Page
About our instructor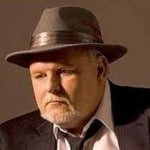 Kendall Bell is an award-winning journalist and veteran author who won more than 20 awards from the South Carolina Press Association, The Associated Press and others during his 20-plus year journalism career. He recently retired after serving as a deputy and public information officer for the Sumter County Sheriff's Office in South Carolina. Bell's writing credits include two published anthologies: From the Heart: Stories of Love and Friendship (Coastal Villages Press, 2003) and From the Heart 2: More Stories of Love and Friendship (Coastal Villages Press, 2004). He is a contributing author in State of the Heart: South Carolina Writers on the Places They Love, Vol. 1 (University of South Carolina Press, 2013). Bell also co-authored a biography titled Larry Phillips: NASCAR's Only Five-Time Winston Racing Series Champion: Master of the Short Track (Bella Rosa Books, 2011). His most recent book, Triple Tragedy in Alcolu (Bella Rosa Books, 2020), is the true story of George Stinney Jr., who, at 14 years old, will forever be the youngest person executed in the United States during the Twentieth Century. Stinney was convicted of killing two girls, aged 11 and 7, in Clarendon County in 1944. Bell's publisher has submitted this book for consideration for an Edgar Award. Winners will be announced next March. He has been published in magazines including Writer's Digest, Lowcountry Monthly Magazine, Sandlapper Magazine, Sumter Living and others. Learn more at www.kendallbell.com.

This program and others like this would not be possible without your financial help for which, as always, Pat Conroy Literary Center gratefully thanks you.