This is the first workshop on December 2, 2020
Whether you've written and published your own novel already or you are attempting the mammoth task for the first time, this course will teach you how to approach the blank page systematically and with the confidence to finish a complete novel manuscript. While the novel represents the most gigantic of creative undertakings, this class will explore "one bite at a time" the basics of plot, character, and conflict as well as how to structure a story over the course of 300 pages.
We will explore in-depth several structural models like:
Freytag's Pyramid
Three-Act Novel Structure
Blake Snyder's Save the Cat
Donald Maas's ideas about Writing The Break-out Novel
Because no two people approach writing the same way, we will also learn more about ourselves, using our preferred and natural methods of organization, thinking, and creative energy to craft a book amidst a busy life. Filled with topical ideas about structure, technique, and the writer's craft in today's Internet age, this course will also teach you how to prepare a manuscript that has energy and appeal to readers. Even if you've never attempted a novel-length story before, the experience of this class should give you the know-how and audacity to try.
Tickets here:
www.eventbrite.com/e/so-youre-trying-to-write-a-novel-eating-the-elephant-one-bite-at-a-time-tickets-125898492781
The course will include slides, hand-outs, and a recommended reading list.
Wednesday, December 2; 6:00-8:00 p.m. and Wednesday, December 9; 6:00-8:00. $60/person. Limited to 12 participants. This workshop will be held as an online video conference call through Zoom. Details for joining the video call will be provided to all participating writers after registering. Course materials will be provided as email attachments.
Website: Facebook Event Page
About Sean Scapellato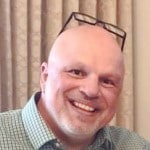 Sean A. Scapellato is a Charleston attorney and former middle-/high-school English and creative writing teacher. His previous students have won thousands of awards for their fiction and poetry on a local, regional, and national level. On three separate occasions, a student of his won the top fiction or poetry medal in the United States at the Scholastic Art & Writing Awards in New York. He has written three novels—unpublished primarily because he has avoidance anxiety of New York publishing and no time to market a book—but he has been recognized twice as runner-up and honorable mention by the Novello Festival Press for best first novel. His creative work exists mostly in publishing essays and short fiction and teaching courses for the Pat Conroy Literary Center. He currently serves as an advisor to the South Carolina Writers Association and board member for the Pat Conroy Literary Center. Once the world returns to normal, he will.

This program and others like this would not be possible without your financial help for which, as always, Pat Conroy Literary Center gratefully thanks you.