Online Event
Presented in partnership between the Pat Conroy Literary Center and the Osher Lifelong Learning Institute at USCB, this writing workshop will be presented on Zoom. Registration is required and limited to OLLI members: https://olli.uscb.edu/
As impactful as setting can be on a short story, novel, memoir, or autobiography, the setting we know best is our hometown. It's where we learned to ride a bike, where we made our first friends, the place we couldn't wait to escape and the place we love to go back to. There's a reason high schools and colleges call reunion weekends "homecoming" because where we grew up has a special place in our memory and hearts.
Authors can skewer their hometowns, calling them out for injustice, inequality, and despair. Or they can praise them for their insularity, security, and comfort. Working from the author's perspective of her own novelization of Herndon, Virginia, Dr. Kasie Whitener explores the details authors include and the ones we leave out when writing about our hometown.
Website: Facebook Event Page
About our Instructor: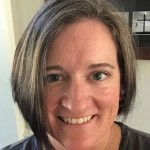 Kasie Whitener writes GenX fiction and is a member of the South Carolina Writers Association. She is the author of After December, released in 2019 by Chrysalis Press. At her core is fantasy romance and not-quite-getting-over-the-90s. Dr. Whitener has presented workshops for the South Carolina Council on Humanities, Bowling Green State University's Winter Wheat Literary Festival, the Pat Conroy Literary Center, and Fairfax County Public Library. Her short story Cover Up, won the Carrie McCray Prize in 2016 and was nominated for a Pushcart Prize that same year. Her day jobs are business owner at Clemson Road Creative and lecturer at the Darla Moore School of Business at the University of South Carolina.

This program and others like this would not be possible without your financial help for which, as always, Pat Conroy Literary Center gratefully thanks you.